Applying for a child's passport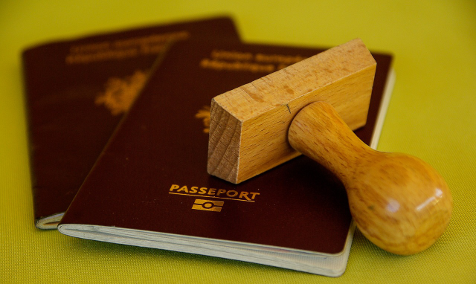 Air travel
The first time I applied for a passport for one of my kids was when my son was 18 months old. My husband, my son and I were taking a medium-length flight to the Canary Islands (from the UK). His passport photo was adorable - a cheeky little monkey who had to be reminded not to smile for the camera, for just this once. The flight was a breeze. We had bought him a special toy to play with on the plane but he was far more interested in running up and down the aisles, babbling to the passengers and charming the air stewards. The meal for all the passengers was unduly delayed ... apparently because all the crew were too busy chatting to him!
Roll on a year and a half and our next experience with passport photos and air travel was nowhere near as relaxed. My youngest was just nine months old and no, infants do NOT look in the direction that they are supposed to look, or keep their eyes open, or refrain from crying, or actually do anything that you need them to do, right there, right then - especially when you really, REALLY need that photo. We spent a fortune in a photo booth with my son sat on my husband's knee to get the shot but the photo that we finally achieved was rejected because they could see part of him behind my son. Our second attempt was more successful when we had the idea to put a hand up the back of my son's shirt and hold him gently in the right position but out of shot - you can't even notice and thankfully neither did the passport office. The flight from Leeds to London, transit in Los Angeles and on to Auckland with a three year old and an infant was long - so very, very long! Midway across the Pacific I was ready to step-out for some "fresh air".
Passports for kids
When you're ready to tackle air travel with the family the first consideration is those passports. Thankfully, the government changed the lifetime of a New Zealand passport from five years to ten years in late 2015, making things a little easier.
Now, improvements to the New Zealand passport service allow parents to renew their child's passport online. Adults were already able to take advantage of this service and will also now be able to apply online for their first passport (subject to use of the RealMe identity verification service). By applying for passports online there is no need to print or send forms, nor to visit a passport office. The online service also removes the need for professional passport photos to be taken. Applicants can take a photo with a smartphone or digital camera and upload the image with their application. See examples of acceptable photos here.
If your child has not had a passport before, you will need to complete and submit a printed application form.
Who needs a passport?
All children (under 16 years old) and babies need to have their own passport when travelling overseas. To obtain a New Zealand passport you must be a New Zealand citizen.
Your child is a New Zealand citizen if:
They were born in New Zealand, Niue, the Cook Islands or Tokelau before 1 January 2006.
They were born on or after 1 January 2006 and at least one of their parents was a citizen or a permanent resident of New Zealand, Niue, the Cook Islands or Tokelau at the time of the child's birth.
They qualify for a New Zealand citizenship certificate. Find out more here.
Processing of a passport application usually takes around 10 days (not including delivery times).
For more information on applying or renewing a passport, visit the Department of Intenal Affairs website.