What time should your child go to bed?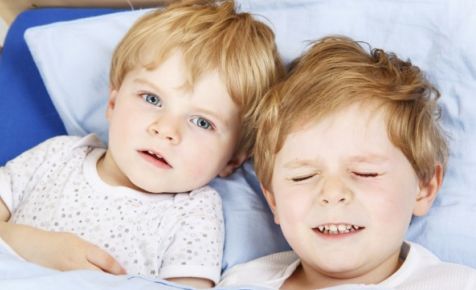 Wilson Elementary School in Kenosha, Wilsconsin, on the shores of Lack Michigan, is a medium-sized school with a roll of around 225 students. Their Facebook page is full of photos and posts about spring musicals, school camps and talent shows. And then there's that one post. Back in August 2015 the Wilson Elementary Facebook page posted a "helpful" chart on how much sleep a child should get, charting the time kids of a certain age should be going to bed relevant to the time they wake up.
The post went viral and has been doing the rounds of social media recently. It's been shared over 400,000 times and has garnered a lot of debate, both for and against the idea of set bedtime and the suggested time for kids to hit the hay.
For example, a five year old who bounces out of bed for school at 6.30am, should be in bed by 7.15pm, according to the chart. Some parents will agree that their child definitely needs this amount of sleep. Others will wonder how on earth they would fit everything in that needs to be done before bedtime rolls around. Take into account working hours, after-school activities, dinner, homework, bath and woops, it's already past the suggested bedtime and you haven't even had a full conversation with your child today!
Here's the chart:
Whether or not you agree with the chart, it has definitely sparked debate around how much sleep kids actually need.
For some, the bedtimes back up their own philosophy regarding their child's bedtime:
For others, the suggestions seem unachievable:
While for this person, these bedtimes would be a dream come true - for themself!
As parents will appreciate, there really is no hard and fast rule when it comes to the amount of sleep kids need. Just like adults, every kid's needs for sleep will differ. Some adults can function perfectly well with just four or five hours sleep each night - though they would be in the minority. The common thread is that every adult needs a good eight hours sleep each night. Not that many parents will be achieving that - especially if there are little ones in the home who care not for charts and schedules!
For kids however, with developing brains and bodies, a good amount of sleep is vital. If the kids are falling asleep in class, grumpy and irritable in the late afternoon or evening, finding it difficult to focus on homework or generally sluggish, it may be time to reassess bedtimes. Even just changing routines can have an affect on the amount of sleep your child gets. For instance, rather than getting 'wired' playing on the iPad before bed and then laying awake for a long period of time, reading in bed or listening to quiet music may send them off to the land of nod a lot quicker.
As a guide, babies under 12 months generally require 14-18 hours sleep per day/night, toddlers require 12-14 hours, primary school kids need 10-12 hours and college kids need 9-11 hours.
What do you think of the chart? Do you agree with the suggested times? Are they achievable for your family?
This article was written by Julie Scanlon, Editor for Kidspot NZ.
NB Comments are moderated by Kidspot and must not contravene our Terms of Service.