The Inconceivable Reality
TVNZ's documentary series, Inconceivable, follows eight Kiwi couples for two years as they attempt to get pregnant through assisted conception. (TV ONE, Tuesdays, 8.30pm, starting 5th July. Also available at TVNZ OnDemand).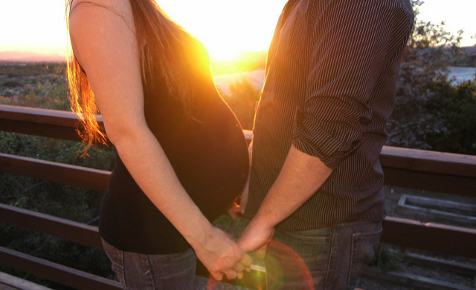 When conception is often described as 'falling pregnant' it makes it all sound so easy. There's no doubting that the act of trying to conceive has its good points. But If it seems to be taking a long time to see that thin blue line then the whole concept can start to affect you and your partner. Infertility affects around 16-20% of couples at some stage in their lives. The reality for many couples is that conception becomes a tricky road to navigate and may require assistance.
TV ONE's new documentary series, 'Inconceivable', follows the lives of eight New Zealand couples who are seeking assistance with conception. The programme serves to raise awareness of fertility issues and the physical and emotional effects that treatment can have on parents-to-be.
These days we are starting our families later than in generations gone by. When we do decide the time is right to fill our homes with the patter of tiny feet, throwing a fertility issue into the mix can turn best-laid plans on their head. Suddenly you are a lot further down the track than you imagined you would be to start having a family - if you're able to at all.
'Inconceivable' introduces us to eight couples who are negotiating fertility issues, including:
Michelle and Ben
Michelle suffers from endometriosis which may affect her fertility. As part of her treatment, Michelle must be given injections at home. She finds it difficult to inject herself - after all, it's such an unnatural notion to deliberately poke something into your own skin! Her partner, Ben, agrees to do the injections into Michelle's stomach despite his own nerves.
Fertility treatment is a massive commitment and support from a partner can make a huge difference. Once you seek fertility treatment, you and your partner are pretty much rubber-stamping your commitment to becoming parents. As Michelle mentions, there will be no 'accidental' or unforeseen pregnancy here.
Teresa and Dave
Teresa and Dave have been trying to conceive for four years. When they seek help they discover that Dave has a zero sperm count and surgical sperm retrieval is required.
The realisation that conception may never happen is hard to accept but modern medicine has made leaps and bounds in what we can achieve.
Leah and Mel
Leah and Mel have been attempting to get pregnant using sperm donation and IUI (intra-uterine insemination). Finance considerations meant that they chose to find a private donor for subsequent IUI attempts after a failed clinic treatment. After eighteen months of trying they are seeking some answers regarding possible fertility issues. Mel has her fallopian tubes checked with an HSG (hysterosalpingogram) which involves inserting a dye into the uterus and fallopian tubes so they can be seen on an x-ray. No issue is found but they work out a plan to move on to public funded assisted conception. This means weight-loss for Mel, a strict budget to be able to afford the required clinic visits and facing the possibility of a shortage of sperm donors.
A seemingly never-ending round of invasive treatments and pregnancy tests, having hopes raised only to have them dashed again, can make staying positive about the whole situation difficult.
Melody and Justin
Melody and Justin moved from South Africa to New Zealand to raise a family in a safer environment. Having made the move, the inability to conceive has thrown up a new obstacle. Melody suffered a ruptured ovarian cyst earlier which she was told may affect her ability to conceive. After initial tests, Melody is put on medication to boost her ovulation and a laparoscopy is undertaken to tick more possible issues off the list. After being given their options, the couple decide to take some time out from trying to conceive to take pressure off.
When you're on the rollercoaster of trying to conceive, sex can feel like it's becoming just a means to an end - almost a chore - rather than a time for intimacy and pleasure. Added to that is the pressure it puts on a relationship, overwhelming emotions around seeing baby news from friends and the questioning from family seeking news. The invasiveness and loss of privacy that fertility treatment entails means that you need to be in a very good frame of mind to cope with the procedures and side-effects as well as any disappointment that occurs. However, the rewards can be life-changing.
Fertility New Zealand offers information, support and advocacy to people experiencing fertility issues.
Are you tuning in to watch the show? Tell us what you think. Have you undergone fertility treatment. Share your story below.
This article was written by Julie Scanlon, Editor for Kidspot NZ.
Inconceivable, TV One, starts Tuesday July 5. You can catch up on missed episodes of Inconceivable on TVNZ OnDemand.
NB Comments are moderated by Kidspot and must not contravene our Terms of Service.