Should I let my child play Pokemon GO?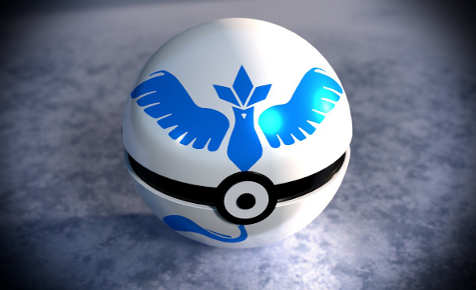 Just the other day, my boys went for a walk to the library. Now, this is not a regular thing. In fact, I can't remember the last time we went to the library, let alone walked to it. The library is only a five minute stroll from our house - you wouldn't even need to get the heart rate up to get there in that five minutes. We used to go often when the kids were younger. But on this occasion, during the school holidays, they were more interested in the journey than the destination. They were Pokémon hunting!
Unless you've literally been hiding under a rock for the last couple of weeks, the extraordinary phenomenon that is Pokémon GO will have caught your attention. Fads come and go but this one has taken the whole world by storm. Within days there were more people on Pokémon GO than on Twitter. Nintendo's shares have risen by 50% and the world has gone Pokémon crazy. The appeal is far-reaching, both globally and age-wise. Kids are enjoying playing it but adults who may have played Pokémon games as youngsters are also getting in on the action.
Kids today are briliant at keeping up with new technology. So for parents who may have been slightly left behind by the Pokémon craze, here's what parents need to know about Pokémon GO.
The background of Pokémon
Back in 1996, Pokémon (loosely translated from Japanese as 'Pocket Monsters') made its video game debut on the Nintendo Game Boy. Since then, Pokémon has become a household name through its numerous video games, TV programmes, comic books, toys and trading card games. In the Pokémon world, players are Pokémon Trainers and have to collect the different Pokémon species to complete the Pokédex and train them to compete against teams owned by other Trainers.
What is Pokemon GO?
Pokémon GO is a smartphone app. Using the phone's GPS, players can explore the real world to find Pokémon, capture them, train them and battle against others. There are 250 different types of Pokémon and you won't have to go far to find some. Players can also use augmented reality (AR) to 'see' Pokémon in the real world using the phone's camera.
How much does it cost?
The game itself is free to play. There are 'in-app purchases' that can be made to get you further in the game but it is not essential to buy these. Even if the kids know that they aren't allowed to spend, it's a good idea to disable in-app purchases to avoid any accidental spending. The setting can usually be found in the Google Play Store menu for android users or in Settings for iOS users.
The game does require mobile data but, contrary to some scaremongering, it doesn't use a whole heap of data. According to a report from The Wall Street Journal, the app uses around five to ten megabytes of data per hour of use. If data usage is a concern, be sure to put a cap on it.
A word of warning though - this game will suck the life out of your phone's battery!
What about privacy?
Initially there was an error which gave the game full access to the Google accounts of some iOS users. However, this was remedied. There is a long list of permissions that the game requires for it to operate correctly which may initially lead you to think that the game is taking over your phone but these are standard for this type of app. For instance, just because the game requires access to your camera doesn't mean it will be taking selfies of you while you sleep. Simply, it needs access to the camera for the augmented reality aspect.
Why can't we play the game at home?
The concept of the game requires players to travel around to find Pokémon so getting out of the house is essential. The kids can play while you drive too. They will find Pokémon all over the place! Just travel around and you will find hundreds, even thousands. A lot of public places are designated as Pokéstops where players can collect in-game items.
Is it safe?
The mere idea of kids wandering around with their noses buried in a phone obviously conjures up every safety concern ever imagined by parents! Have a conversation with the kids about their use of the game and remind them that they are still in the real world. Remember:
Stop, look and listen at road crossings - basic road safety still applies
Never enter private property. You don't have to be right next to a Pokémon to capture it, just near enough
Don't take unnecessary risks to capture yet another Eevee.
And for the older generation of players, never Pokémon and drive
Final word
If you want to know what all the fuss is about, or you're concerned about your child's safety using the game, download it and try it for yourself. This gives you a better idea of the boundaries that you will need to set down. Now get out and about with the kids and play together!
If the kids want some help with getting started, GeekDad has a beginner's guide.
This article was written by Julie Scanlon, Editor for Kidspot NZ.
The information contained herein is to the best of our knowledge true and correct at the time of publication. We urge parents to refer to their phone's manual and the information contained on the app download pages for up to date information.
NB Comments are moderated by Kidspot and must not contravene our Terms of Service.