Disney's Pete's Dragon: For a new generation of fans

For years, old wood carver Mr. Meacham (Robert Redford) has delighted children in the sleepy town of Millhaven with his tales of the fierce dragon that resides deep in the woods of the Pacific Northwest. To his daughter, Grace (Bryce Dallas Howard), who works as a forest ranger in these very woods, his stories are little more than tall tales…until she meets Pete (Oakes Fegley).
Pete is a mysterious 10-year-old with no family and no home to speak of, who claims to live in the woods with a giant, green dragon named Elliot, and from his descriptions, Elliot seems remarkably similar to the fabled dragon from Mr. Meacham's stories.
As Grace slowly begins to earn Pete's trust, opening his eyes to the possibility that there is a world beyond his forest, his presence causes Grace to take a look at her own life, including her relationship with Jack (Wes Bentley), who owns the local lumber mill. Jack wants to support Grace's endeavors to study and protect the surrounding woods but needs to focus on keeping his company profitable at the same time, and it is driving a wedge between them.
When Pete's idyllic life with Elliot in the forest is in danger, Grace, along with the help of Jack's 11-year-old daughter Natalie (Oona Laurence), sets out to uncover the truth about this dragon and determine where Pete came from…and where he belongs.

In 1977, Walt Disney Studios released the live-action/animated musical "Pete's Dragon", starring Mickey Rooney, Helen Reddy, Red Buttons and Shelley Winters.
Disney had been eager for some time to introduce "Pete's Dragon" to a whole new generation of film goer's and brought on producer Jim Whitaker ("The Finest Hours," "Friday Night Lights"), to shepherd the project.
"There are so many people who grew up with the original film, and the idea of that movie became a leaping-off point for us," says Whitaker. "We knew that this very simple idea about a boy and his dragon still had the potential to become a really special film."
Many of Disney's classic films like "Dumbo" and "Bambi" convey important issues to children and help prepare them with the tools and guidance to deal with those issues in their own lives. "Our story asks a fundamental question: where does one belong," says writer/director David Lowery.
While Elliot is entirely computer-generated, he is still a fully-fledged character in the story, and someone whom Pete—and hopefully the audience—grow to care for a great deal. Elliot's presence allows Pete to be able to figure out what he needs, in a narrative sense, and he instinctively understands what's missing in Pete's life and that he belongs somewhere else.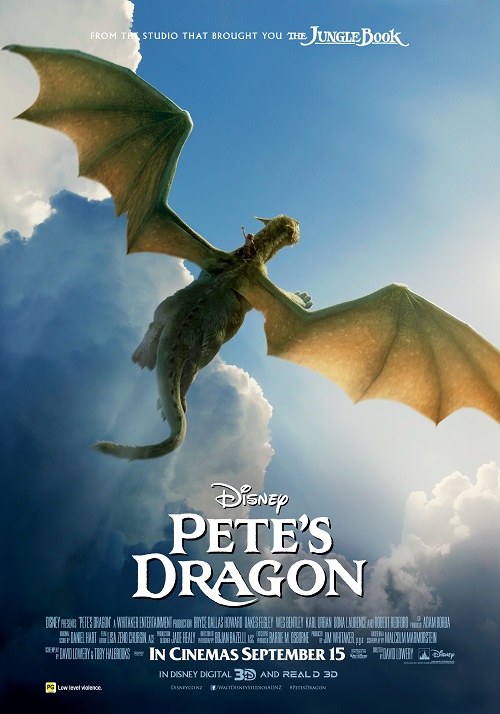 When Disney's "Pete's Dragon" hits cinemas in September, 2016, it is sure to charm and thrill audiences, creating a whole new generation of life-long fans.
It is an epic adventure with a child as the protagonist that features an awesome, green dragon, and in the words of Oona Laurence (Natalie), "What kid wouldn't want that?"
But at the same time it's a story about personal growth, finding one's place in the world and the power of friendship. "Elliot was very lonely before he met Pete, which is why he takes Pete in and protects him and takes care of him," says Oakes Fegley (Pete). "To me, that is such a cool story."
Lowery says, "We did our best to stay true to these core themes throughout the entire production and to let every scene speak to them to the greatest degree possible. I look back on childhood as an adventure, and I wanted to capture that on screen in the smallest—but also the biggest—way."
While the setting for "Pete's Dragon" is a town somewhere in the Pacific Northwest of the United States, the filmmakers chose to shoot in New Zealand, as they found it to look a bit more magical.
One location, McLaren Falls on the North Island, was so remote that helicopters were needed to transport camera equipment to set. The cast and crew meanwhile, had to walk more than 400 yards across enormous boulders just to reach base camp, but while difficult to reach, the setting itself was amazingly beautiful, and one that Lowery couldn't imagine not using.
PG - Low level violence
#PetesDragon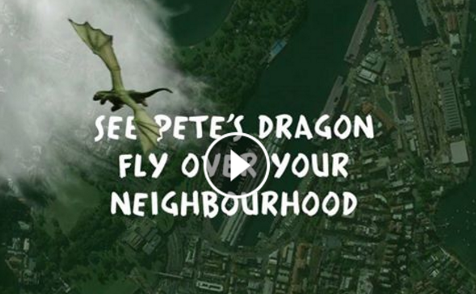 Kids (of all ages!) will absolutely love this cool idea. Just pop over to http://petesdragon.disney.com.au/ and add your address to watch Elliot the dragon fly over your own neighbourhood. Be sure to keep watching to the end as there's also a little surprise visit! Where else would the kids like to see Elliot visit? The local park or school? Their grandparents' or friends' houses?