A School Holiday Trip to the Sky Tower
After seven years, I should be a pro at this school holiday thing, but as the kids get older they get harder to entertain and even harder to impress. So when Sky City invited us to try out their Great World Explorer school holiday program at the top of the Sky Tower, I was pretty sure I'd nailed it.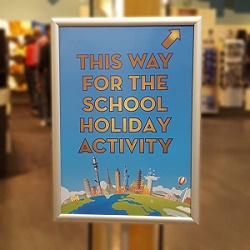 "It'll be awesome!!" yelled Mr 9. "It'll be cool!!" squealed Miss 9. "It'll be, like, totally lame" muttered Miss 11 without looking up from her iPad.
Two out of three, in my world, is a resounding success.
Before we left we downloaded the STQRY app so Mr 9 could start dazzling us with interesting Sky Tower facts. Like: on a good day you can see for 80km in every direction; the Sky Tower weighs as much as 6,000 elephants and it's built to withstand an 8.0 magnitude earthquake. Good to know.
Getting there
Parking at Sky City is easy and not too expensive if you remember to get your ticket validated when you buy your Sky Tower passes. There's also some nifty little tools to help you find your car again when it's time to go home.
Getting tickets was quick and easy, although I do get a little annoyed with the '2 adults + 2 kids = a family' thing, but adding the extra child wasn't too expensive. The kids were given their Sky Tower Passports - a booklet with some activities for them to complete during their visit using the new augmented reality app Sky City Plus.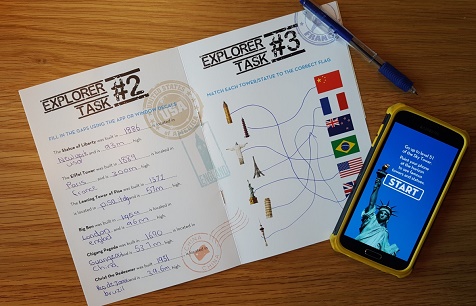 We needed to download the app to three devices to avoid the inevitable arguments over who would go first when we got to the top – and we did this in no time at all using Sky City's free Wi-Fi.
I thought Mr 9 was actually going to explode with excitement when he saw the glass floor in the lift that meant he could watch as we "blasted off".
"Awesome!!" yelled Mr 9. "Cool!!" squealed Miss 9. "Whatever" muttered Miss 11 who'd found a dark corner of the lift to skulk in.
At the top
The view is the first thing you notice as the lift doors open. Even on a slightly dull and overcast Auckland day, you can't help but be impressed.
We fired up the app, pointed it at the horizon and up popped Big Ben complete with a series of facts and figures which could be used to complete the activities in the Passport booklets. As we walked around the observation deck other landmarks appeared and more statistics were noted. That's about all the app is for – and the information it provides is available on stickers around the observation deck so you won't miss out if you don't have the app. But what you will miss out on is the fun of trick photography - this alone could have kept the kids busy all day.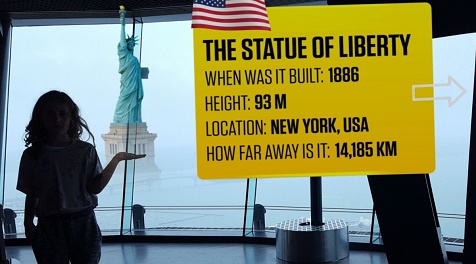 There were plenty of other activities too. The dress up 'selfie' corner was a hit, along with the well-equipped colouring in table and, of course, the challenge of trying to figure out where in that vast view our house was.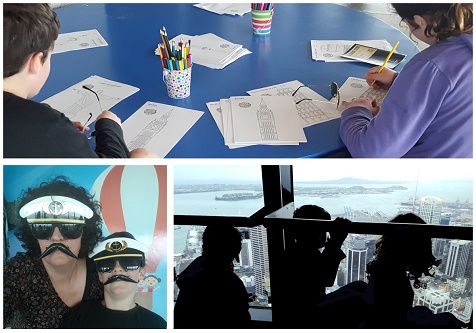 "Awesome!!" yelled Mr 9. "Cool!!" squealed Miss 9. "Oh look, ice cream" said Miss 11, finally warming to the idea of having been made to leave the house.
She'd spotted a sign for the Sky Café. It seems to be run by the folks at Kapiti – so not only were there delicious ice creams, but also a selection of toasted sandwiches for those who might want something more substantial.
The kids' special of a cheese toastie, soft drink and two-scoop ice cream was a little expensive at $15, but it kept the troops happy – especially when they found out they could choose their own ice cream toppings. The café also does a very good coffee - and if it had been a couple of hours later I'd definitely have gone for a cheeseboard and glass of wine.
Next stop, the Sky Deck on the 60th floor where we found another activity table packed full of fun things that could be stamped, glued or otherwise attached to a flag for your own make believe country.
All in all….
Our trip to the Sky Tower was a fun day out. We spent over three hours there without one single complaint of boredom – even from Miss 11. Being able to move between three different floors – the certainly helped with that.
Price-wise it compares pretty well with, say, a trip to the movies, but it kept the kids entertained for longer and was a lot more interactive and educational.
While the food selection at the Sky Café was limited and a bit on the expensive side, the ice creams were delicious and the bright and airy café is a lovely spot to hang out in and continue admiring the view.
"That was awesome!!" yelled Mr 9. "That was cool!!" squealed Miss 9. "Can we go again soon?" asked Miss 11 who it seems had enjoyed our day out at the Sky Tower after all.
While Sky City paid for our day out at the Sky Tower, the thoughts and opinions about this experience are my own. You can read more reviews about family experiences on Polly Unsaturated.