Blackmore's Toddler Milk Drink- A Wee Review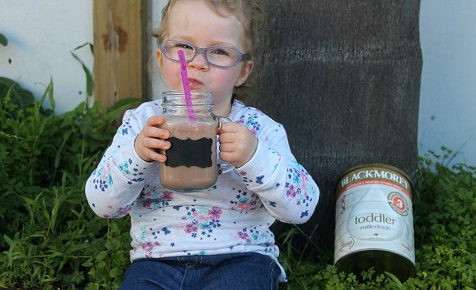 Having been long time users of Blackmores supplements, when I heard they had crafted a milk drink for toddlers, I was a little bit excited! I couldn't breastfeed when Miss I was born due to complications so formula was our saviour and it meant that for the first week and a bit while I was recovering, the hubby could do all of the feeding duties and bond with his little girl.
The wee kiddo was rather excited when I told her that she would be getting a parcel in the mail just for her. When it arrived, I had to patiently wait for her to open it up and thoroughly inspect the tin from top to bottom. "I like the colour mummy". "It has gold like my robot! Is it robot milk?". "Can we have some now please?". I figured that answering yes to the robot question was a great start to the process of changing something- anything to make life easier because hell hath no fury than a 3yo who doesn't have robot milk!
Having only one child, I'm not sure if they are all like this but our little girl is a creature of habit and freaks whenever we change things up (especially in her diet), so we usually have to slowly introduce anything new. In true kiddo fashion, she made me look like a bit silly and took to it straight away! I couldn't figure out why to begin with but after I had a sip, I realised that it doesn't have that sweet smell or taste to it like some others do! Miss I even asked if it was "real milk" in her cup because "it tastes like the one in the fridge".
In the past we have found that whenever we have switched formulas for whatever reason, it upsets her tummy for a few days but this one didn't have any effect which we were stoked about. According to her, "it makes my tummy feel very funny and happy!". This may sound a tad silly but aside from it being nutritional and not causing tum issues, my favourite thing about this milk drink is that the powder dissolves so easily! I don't have to stand there for a few minutes whisking everything up with a fork to try and de-lump it.
If you want something to catch people's eye then make it eye catching and thats exactly what Blackmores have done! The way that they have laid out the nutritional info is also great as it's not all crammed on the back so it is incredibly easy to read. You usually see a sea of green and blue when you hit the formula section at the supermarket and your eyes get a little bit lost so having a white tin certainly makes you look. While it is a little bit more expensive than the others, I am more than happy to make the poor bloke forgo a couple of coffees each month to support a brand that we already use, trust and who deliver on the quality front. It's fantastic how all of the nutritional information is laid out as its not all crammed on the back so it's easy to read.
After a week of thorough testing, we changed things up a little and mixed in cacao powder (1-2 tsp for taste) with a banana which was a huge hit. What 3yo doesn't love "chocolate. The whole fussy eating phase is something we are currently going through and with her on the go pretty much 24/7, it's great to be able to supplement her nutritional needs with a brand that we trust. While it is missing a couple of nutritional components that our other formula has, it is lower in sugar so i'm happy with that trade off.
If you're after a good quality milk drink for your wee one from a brand that you can trust then Blackmores is definitely the way to go. We have made the permanent switch over and both the robot girl and her tum are very happy!
A huge thanks to Kidspot NZ and Blackmores for giving us the chance try out this awesome new kiddo milk drink. It gets a double thumbs up from us in this house.