Being prepared for unexpected illnesses and injuries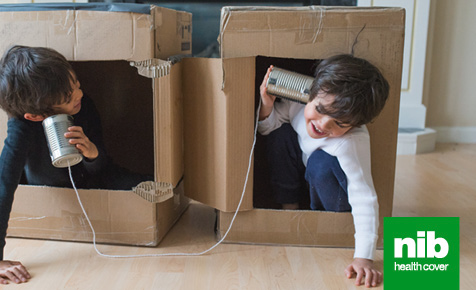 Being a parent requires you to be fast (to scoop up runaway toddlers), agile (leaping over the couch to stop that fork going in the power socket) and strong (child in one arm, full washing basket in the other).
When you think about it, a parent shares many qualities with a superhero. So what happens if we get struck down by unexpected health issues in life and suddenly find ourselves suddenly stripped of our super powers and unable to look after our little ones, or even worse, if our kids require medical attention?
The reality is that from July 2015 to March 2016, New Zealand DHBs accepted more than 447,000 referrals from GPs, to assess patients for possible elective surgery. Now we're not talking about elective procedures like plastic surgery; we're talking about non-emergency medical treatment for things that come without warning, like tonsillectomies, appendectomies, or more serious conditions such as some types of cancer.
Did you know tonsillectomies are one of the most common elective surgeries for kids, with around 20,000 children in Australia and New Zealand having their tonsils removed every year? These kids suffer from multiple sore throats each year, affecting their ability to eat, drink, sleep and attend school! According to nib, the average medical expense claim paid out for a tonsillectomy is $4,676 - a hefty sum to come out of the blue!
Now New Zealand has a great public health service, but despite that and thanks to an ageing population needing more care, you may still find yourself waiting up to four months for your surgery – on top of up to the four months you may have already waited for your specialist appointment. That could be eight months of time spent waiting for treatment rather than making the most of fun and adventures with your precious ones!The public health system isn't your only choice for elective surgeries though. Private Health Insurance complements the Public Health System and allows you to fast track treatment as well as choosing when and where you're treated.
Having a health insurance policy that covers you and your kids will give you peace of mind so you can focus on getting them better rather than worrying about how you're going to pay for it all.
If you're considering taking out cover to to help you protect your little sidekick, nib is offering to give a $100 JB Hi-Fi voucher for any combined Private Hospital + EveryDay policy taken out by 31st January 2017.
You can enquire online about nib's cover options or call them on 0800 123 642.
So go on, every superhero (and their sidekick) needs a good defence so that they're free to keep saving the world!
This article was written for NIB insurance, sources include Ministry of Health NZ and nib.co.nz.
The article contains general information only and should not replace advice from a qualified health professional.