The fire safety video everyone should watch
Until you experience a fire, you've got no idea what it's like. But now you can experience it for yourself, see how fast it spreads, and understand why an escape plan is so important.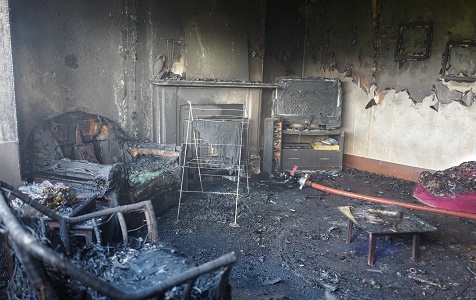 Last year there were 18 avoidable deaths caused by residential fires in New Zealand and the New Zealand Fire Service reportedly attended more 5,200 structure fires.
Did you know that it only takes five minutes for a house fire to become un-survivable? That may be hard to imagine, but the Fire Service has a way that you can now see first-hand how fast house fires really spread. And this should be mandatory watching for all children (and parents for that matter!).
The Virtual Reality video starts off in the lounge where a clothes rack is sitting too close to the heater and has caught fire. Users must try to navigate their way to safety, but it becomes apparent very quickly just how fast you need to act.
The fire doesn't follow any rules when it comes to spreading. On my third time around I stood outside the lounge watching to see exactly what was going to happen. I watched the fire through the door as it spread across the clothes rack, thinking, "oh yeah, I've still got a bit of time…" but the next second, I noticed down the hallway to the right that the flames had already spread (through the wall?!) and black smoke was quickly obscuring my vision. Suddenly flames were everywhere.
The fire is completely real and not accelerated at all. The Fire Service filmed it at a derelict house in Palmerston North, with everything set up exactly as it would be in an everyday house like yours or mine. In fact, enter your address at the beginning of the experience and you'll get a bit of a harsh wakeup call, seeing your own house on fire at the end.
True to my experience, New Zealand Fire Service Station Officer and current Training Officer, Chris Kennedy, says, "For the first 30 seconds you might not even know about a house fire, then suddenly you're hit with thick black smoke, you can't see and you've got to get out straight away."
The site shows just why we need working smoke alarms, and escape plans. Imagine if you were tucking your children into bed while the clothes horse in the lounge was silently catching fire… it's a terrifying thought, especially after seeing a house fire in action.
He has also emphasised the importance of having a safe meeting place. "We've had terrible situations when people will get out of their house fire but can't find the rest of their family or flatmates, so they run back in to help them and unfortunately don't make it back out. When, all along, the others had escaped but gone to a different location. It's an awful tragedy that can be avoided if people have an escape plan and agreed safe meeting place."
Here are some of New Zealand Fire Service's Escape My House Safety Tips:
Make sure everyone in the household knows the safe meeting place so you know if everyone has safely escaped
Have an escape plan to get everyone quickly to the safe meeting place
Your escape plan must start with having working smoke alarms to alert you to a fire
Have more than one exit from every room. Be aware of what obstacles are in your way that could block your escape path
In the event of a fire leave your possessions behind, just get out fast! Close doors to prevent the spread of fire
Get down, get low, get out and stay out.
You can experience the VR Escape My House here. Use a VR headset or Google cardboard, with a smart phone and headphones for the most intense experience. It can also be used on mobile, tablet and a computer, as a 360 video.
See what the NZ Fire Service think of the video below:
Last revised: Wednesday, 22 March 2017
This article contains general information only and is not intended to replace advice from a qualified health professional.