5 baby naming trends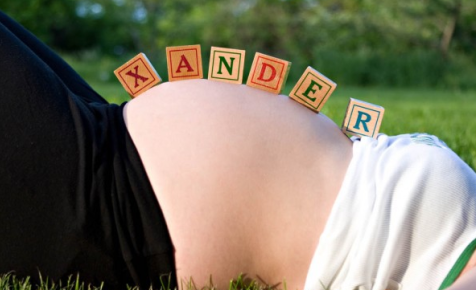 Choosing your baby's name is a big decision. It may fill you with excitement at the prospect of choosing from your carefully selected and researched list that you have carried around since the day you saw the blue lines on the preganancy test; or it may trigger anxiety because every time you select a name you meet someone with the same moniker and that just won't do!
If you're stumped for a name that you love, inspiration is at hand with the latest in baby name trends.
Embracing nature
The use of names taken from the natural world is definitely not a new trend but one that is taking off again. In 2016, Jamie and Jools Oliver added to their family with a baby boy named River Rocket while his sisters have a floral link - Daisy, Poppy and Petal. The top 100 names for NZ babies currently includes Summer, Amber, Violet, Hazel and Willow. Actress Emily Blunt has a new baby girl called Violet whle Oscar-winning actor, Eddie Redmayne welcomed baby Iris to the family recently.
I spy with my little eye, something beginning with ...
Names starting with letters like Q, X and Z used to be avoided by parents who were worried that their child's name would be unpronounceable. Nowadays of course, our names are much more diverse and using an unusual initial letter is on trend for baby names. Included in the top NZ baby names are Zara, Quinn, Zion, Xavier, Zachary and Zoey. Actress Zoe Saldana from Guardians of the Galaxy continued her family line of 'Z' names with a baby boy called Zen, born in March 2017.
Place names
The trend to give your baby a place name may go back as far as Brooklyn Beckham but it is still a popular choice. Though sometimes it's hard to tell which came first - the name or the place? The Kiwi top 100 includes Lincoln, Phoenix, Austin, Roman, Jordan, Kingston, Florence and Georgia. What ... no Auckland or Hamilton?!
Get your geek on
It may be the resurgence of an interest in science; it may just be because of the influence of The Big Bang Theory - but geek is in, even when it comes to baby names! Both first and last names are in use with Tesla, Edison, Isaac, Newton, Ada (Lovelace), Hildegard (of Bingen), Rosalind, Franklin, Galileo and Darwin on the rise. Names taken from video games is also a growing trend for the technological age with Jace, Ryu, Thane and Kane being prominent choices. Zelda, Rayne, Wynn, Cass and Aveline are solid choices as strong female characters. Of course, we shouldn't forget Mario!
O for awesome
It can not go unnoticed that the most popular names for Kiwi babies, Oliver and Olivia, both start with the letter 'O'. In years gone by 'J' has been a popular choice for names and of course, the Kardashians started a whole 'K' trend. You can also choose from Oscar, Olive, Odin, Onyx, Octavia, Odette, Orlando, Osric and Owen and dozens more.
What influenced the choice of name for your baby?
---
NB Comments are moderated by Kidspot and must not contravene our Terms of Service.