Birthday party idea: tin can flower pots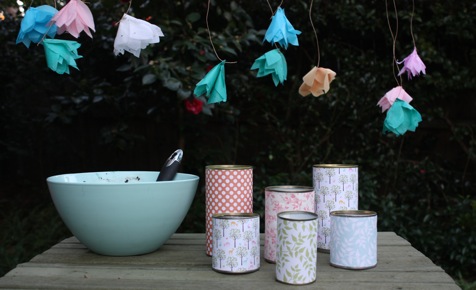 This idea could actually be used as a party activity and a take-home party favour – particularly fun if your child wants a floral-themed party. These dressed-up recycled tin cans are not only pretty, but can offer a great learning experience for children to watch plants grow.
To make floral tin can pots, you'll need:
A range of washed and dried tin cans - just keep them after cooking!
Assortment of patterned papers - florals are good to continue the theme, but you can use any pattern you like.
Ruler
Scissors
Double-sided tape
Soil (optional)
Flower seeds (optional)


How to make floral tin can pots:
Measure the size of the can between the top and bottom ridges and the diameter.
Cut the patterned paper to these measurements.
On the underside of the patterned paper, stick a strip of double-sided tape along the edge.
Stick this paper edge to the tin can.
Wrap the paper around the can and place another strip of double-sided tape on the edge of the paper that is already stuck to the can. Stick in place.
Cut off excess paper
Fill the tin can with soil and seeds if you want to turn them in to actual flower pots. Alternatively, the paper-covered cans make lovely pencil tins on their own.
Find more birthday party crafts and ideas:

Find more birthday party themes:
Find more birthday party ideas: