Birthday party idea: no-sew superhero cape and mask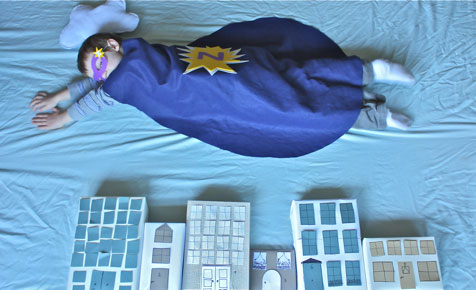 For a quick and easy superhero birthday party costume make this superhero cape and mask - all without sewing a single stitch. The colours and symbols for the mask and cape can be after whatever hero you like, but stick to simple shapes and three to four kinds of felt for the best outcome.
To make a no-sew superhero cape and mask, you'll need:
1 metre length of wool felt
Sheets of sticky-backed felt in your colour combo (you'll need at least three
Scissors
A piece of cardboard
Sticky velcro dots
A hot glue gun
A button



How to create a no-sew superhero cape and mask:
Fold the 1 metre piece of felt lengthways and cut the open-edged side (not the fold) into a kind-of semi-circle that's squared off at the centre and curved on either side. You could also cut the felt in straight lines (without the curves) for a square-ish cape.
Unfold the felt and cut a deep semi-circle shape out of one of the squared edges. This will form the neck of the cape, so measure your child to ensure the tabs will fit around their neck when getting the neck hole size right.
Fold one of the tabs over onto the cape and place the velcro dots in the centre of the tabs at the end. They should overlap and secure together when wrapped around the neck.
Use your hot glue gun to stick the button on the outside of the closed tabs so it looks like a button closure.
Cut your sticky-backed felt into your superhero symbol shape - it could be a star, lightning bolt, crescent or triangle (the one pictured is based on the comic book Starburst). Cut around the shape a little bigger onto another piece of felt in a contrasting colour (or just stick to the one layer). Stick the larger one on the centre of the cape and the smaller one on top.
Cut your child's initial out in another coloured sticky-backed felt and stick in the middle of the symbol.
Firm all the sticky felt down by pressing it with your hand.
For the mask, use an offcut of a piece of the sticky felt and stick this to a piece of cardboard for firmness. Cut into a mask shape and cut out eye holes. Pierce a small hole on either side of the mask and tie on some thin hat elastic.
Cover one side of the hat elastic holes with a mini version of the symbol and mini initial.
Find more birthday party crafts and ideas:

Find more birthday party themes:
Find more birthday party ideas: