The ultimate birthday party planner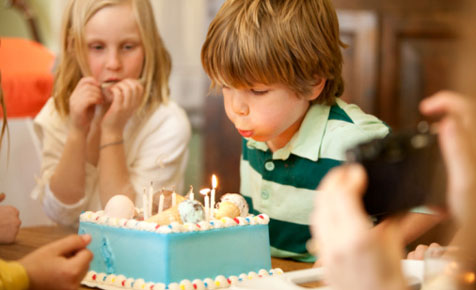 Does the thought of a birthday party at home send you into a panicked frenzy? Too hard basket? "That's for crazy people or domestic goddesses!" you shriek! Not necessarily. Here's a party plan that will mean you not only survive your child's next birthday party at home, but ENJOY it too!
Oh, and there's a checklist too so you can feel in control every step of the way!
Two weeks prior to the birthday party
Plan who's coming. If you have loads of friends and family with kids, you may want to alternate the years you have a 'family party' and a 'friend party'. Keep friend parties sane by inviting one school friend for every year of age - i.e. 6 kids for a 6th birthday party.
Decide on a time - Kids under the age of seven years are better off with a morning party so they can recover in the afternoon from the sugar frenzy and parents will also have some hope of getting them to bed that night. A morning party also means you can have it all cleaned up by 2pm at the latest, and still have time to recover yourself! Afternoon parties are good for older kids with more stamina. The later time also gives mum a few more hours in the morning to get ready.
If you have a theme, decide on it - but make it realistic. A colour party is easy (see pink party), and all little girls have princess dress up clothes that are made for a princess tea party. Boys will love a sport party and will already have the get up from the team they play for on weekends or after school. Check out more party theme ideas here.
Plan what's going to happen. Plan the party games you'd like and any theme-related activities etc. Have a wet weather alternative if you've planned an outdoor party.
If you're having an entertainer or a jumping castle - book it now, get recommendations from friends or browse the kidspot birthday party directory.
10 days prior to the birthday party
Send invites - whether you e-invite guests via email or or send out handwritten invitations, it's time to get them out. Need an invite? Choose from Kidspot's printable invitations.
Set your RSVP date for four days prior to the party, that way, three days prior you can chase up any stragglers.
One week prior to the birthday party
4 days prior to the birthday party
Do all your shopping. Food, drink, party games and decorations AND, let's not forget the birthday present!
Chase RSVP's for those who haven't RSVP'd
Make your lolly bags or thank-you bags - make 20% more than you think you need - there's always someone with a brother or sister who'll love a bag.
Arrange music - for party games or just atmosphere (see below for home party must-haves) and have a prizes 'bag' with your pass the parcel and other party game prizes.
Confirm entertainers, jumping castle if you have booked them.
Confirm any outside catering.
The day before the birthday party
Ice your cake, cover it with a cardboard box and cover any holes to prevent anything (or anyone) getting into it! Keep the candles with the cake so you're not scurrying around looking for them on the day.
Tidy up the night before as much as you possibly can.
Day of birthday party
Arrange ice if entertaining adults - they can serve themselves, set up a station with an esky/tub with ice and drinks -bottled water, soft drinks etc.
Decorate. Balloons are always a hit. If dad or an uncle is around, this is a great job for them! (see below in home party must-haves!)
Make and serve food and drinks - if serving cocktail franks, have them in a saucepan with cold water and just leave them there until the party starts - turn the stove on and heat for 15 mins (see below in home party must-haves!)
Home party must-haves:
A cold drink urn - like an esky or Tupperware one - with a tap is fabulous way to serve drinks for kids - fill it with diluted juice and have the plastic cups at the ready. Drinks on tap will keeps kids hydrated and you won't forever be pouring drinks or wasting pre-packaged drinks that get only part-drunk!
A balloon pump - these cost less than $5 from the supermarket or party shop. Save your lungs and saves time.
A good party CD for kids - ABC has one 'Best of ABC kids' which is a bit of everything - older kids will like the latest 'Now' CD. These set the mood for a party and are great for games.
Stumped for games?
Check out oodles of party games and activities.
Birthday party planner checklist

When

What

Done

2 weeks prior

Guest List

Date and time decided

Have a wet weather alternative decided

Theme

Make list of games and activities

Book entertainment if required (entertainer, jumping castle)

10 days prior

Send Invites

7 days prior

Arrange party games/activities

Plan menu

Make shopping list

Order or bake your cake

Organise any costumes if necessary

4 days prior

Chase RSVP's

Food, drink and party games shopping (birthday present too!)

Make lolly bags

Arrange music and party game prizes

Confirm outsourcing: Catering, entertainers etc.

1 day prior

Ice/pick up birthday cake

Tidy house/party area

Prepare any 'ahead food' you may want to make

Party Day

Decorate and Set up

Arrange for ice if required

Serve food and drinks

ENJOY
This article was written by Melissa Klemke for Kidspot, New Zealand's best birthday party resource.
Related party planning articles
Find more birthday party ideas: