Choc-mint ice cream sandwich cake by Donna Hay
By
donna hay kids' magazine
|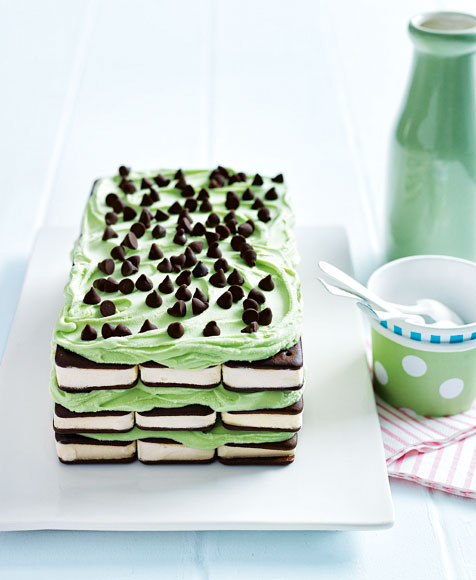 The queen of beautiful food, Donna Hay, knows just what it takes to make a birthday party go with a swing - the cake! Here are some of her amazing cake creations for you to make.
Below is the easy recipe to make Donna's impressive Choc-mint ice cream sandwich cake (above). You can also get the step-by-step instructions to make her pretty Bombe Alaska cake too.
Ingredients:
2L vanilla ice cream
1/2 tsp teaspoon mint essence
green food colouring
18 chocolate and vanilla ice cream sandwiches
1/3 cup dark chocolate chips, for sprinkling
Method:
Place the ice cream, mint essence and a few drops of food colouring in an electric mixer and beat for 1–2 minutes, or until softened. Place the ice cream in a metal container and freeze for 1 hour, or until firm but spreadable.
Working quickly, place 6 ice cream sandwiches together on a serving dish. This will make the base layer of the cake. Spread evenly with 1 1/2 cups of the mint ice cream and repeat with remaining ice cream sandwiches and ice cream, finishing with a layer of ice cream.
Return to the freezer and freeze for 2–3 hours or until set. Sprinkle with the chocolate chips and serve immediately.
Serving size
8–10
Notes
Before softening the ice cream, place in a metal container in the freezer to prevent the ice cream from melting.
If it's a hot day, place the cake in the freezer for 1 hour between assembling each layer.
Placing the serving dish in the freezer before assembling will help prevent the ice cream from melting.
The cake can be kept in the freezer for 2–3 days.
This recipe was supplied by donna hay kids' magazine.
Find more birthday cake recipes