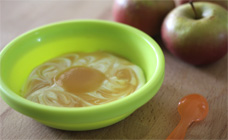 Apple yoghurt
This apple yoghurt recipe shows you how to stew fresh apples to combine with full fat yoghurt for your baby. Find more on Kidspot New Zealand's recipe finder.
Ingredients:
1 apple, peeled, cored and sliced thinly
1/2 cup water
1 cup full fat yoghurt
Method:
In a small saucepan, bring the apples and water to the boil and leave to simmer with the lid on for 10 minutes until the apple is very soft.
Puree the apple and juices using a sieve or stick blender and leave to cool.
In a bowl, combine the stewed apples with the yoghurt and serve.
Notes
You can use any stewed fruit to combine with yoghurt.
Use the natural sugars in the fruit and try not to add any extra sugar.
This recipe was created by Jennifer Cheung for Kidspot, New Zealand's best recipe finder.
More first foods recipes: