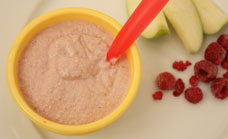 Apple and raspberry porridge
Baby food recipes made at home are the best first foods to offer your baby. Find baby food recipes incuding baby cereal, baby purees and baby yoghurt.
Ingredients:
1 cup of water
1/2 cup rolled oats
1/4 cup raspberries
1/4 cup apple puree
Method:
Bring the water to the boil, add the oats and turn the heat down, stirring frequently to avoid sticking. Cook oats for around 10 minutes.
Remove from heat, place in blender with raspberries and apple and blend until smooth.
Combine the oats and water in a microwave-safe container and cook on high for 1 minute. Stir and cook for another minute.
Add oats, raspberries and apple puree to a blender and blend until smooth.
Notes:
If you'd rather the seeds of the raspberries removed, puree the raspberries before combining with the oats and push the puree through a fine sieve to remove the pips. Then simply stir into the porridge.
Can be frozen for up to four weeks. Do not freeze if you used frozen raspberries or frozen puree.
This recipe was created by Belinda Graham for Kidspot.
More first foods recipes: