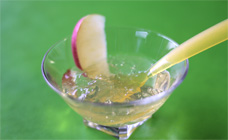 Fruit jelly
This is a way to make fruit gels at home like the commercial ones. The jelly can be made with any flavour fruit juice you like. Find more on Kidspot New Zealand's recipe finder
Ingredients:
3/4 cup apple juice
1/4 cup boiling water
1 tsp gelatine (powder)
Method:
In a bowl, dissolve the gelatine in the boiling water.
Stir in the apple juice and pour into a bowl.
Refrigerate for 4 hours or until set.
Notes:
Notes
Find related baby recipes
You can substitute any pure fruit juice for the apple juice in this recipe. I suggest you use unsweetened pineapple juice or orange juice.
Take this from the refrigerator and serve immediately as it will turn to liquid after being out of the fridge for while.
This recipe was created by Jennifer Cheung for Kidspot, New Zealand's best recipe finder.
More first foods recipes: