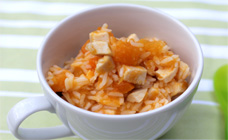 Fruity chicken and rice
The fruity chicken and rice is a dish that babies love for its sweetness from the apricots and great texture. Find more on Kidspot New Zealand.
Ingredients:
1 cup cooked white rice
1/4 cup cooked chicken breast, finely diced
400g tin apricots in fruit juice
Method:
Drain the apricots and reserve the juice. Take half of the apricots and blend using a stick mixer. Add a little of the reserved juice if required.
Dice the remaining apricots.
In a saucepan, place the rice with the chicken, puree and diced apricot. Warm gently and serve.
Notes
If your baby requires a smoother texture or is still having pureed foods, you can use the reserved juice to thin it out as you puree it.
I used a portion of BBQ chicken for this dish and served the rest to my family.
Find related baby recipes
This recipe was created by Jennifer Cheung for Kidspot, New Zealand's best recipe finder.
More first foods recipes: