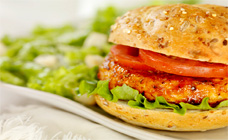 Chicken burger
These chicken burgers are made with chicken mince patties that are held together with vegetables and have the flavour amped up with sweet chilli sauce. Find more on Kidspot New Zealand.
Ingredients:
1kg chicken mince
1/2 cup onion, chopped
1/2 cup celery, finely chopped
1/2 cup carrot, grated
Wholegrain rolls
Lettuce
Tomatoes, sliced
Good quality mayonaise
Sweet chilli sauce
Method:
In a bowl, combine the chicken, onion, celery and carrot. Form into 12 patties and refrigerate for 1 hour.
Cook on the barbeque or in a oiled frying pan for 5 minutes each side.
Assemble the burgers on the buns in the following order. Lettuce, mayonaise, tomato, chicken patties and sweet chilli sauce.
Notes:
These chicken burgers are really quite healthy if you choose a fat -free mayonaise.
If your patties are a little too moist you can add 1/2 cup of breadcrumbs to the mix before refrigerating.
You can freeze any unused patties for later.
This recipe was created by Jennifer Cheung for Kidspot, New Zealand's best recipe finder.
More first foods recipes: