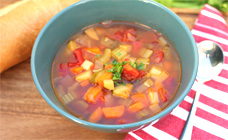 Vegetable soup
This delicious vegetable soup is simple, flavoursome and fast. It's a great nutritious lunchbox soup and you can adjust it to what you have in your fridge.
Ingredients:
1 tbsp butter
1 onion, diced
2 cloves garlic
3 carrots, peeled and sliced
3 sticks celery, sliced
1 swede, peeled and diced
1 parsnip, peeled and diced
1 zucchini, sliced
2L of vegetable, beef or chicken stock
1 tin of chopped tomatoes
Method:
In a saucepan, melt the butter and add the onion and garlic. Saute until translucent.
Add the celery, carrots and zucchini and fry for 5 minutes.
Pour in the stock and tomatoes and bring to the boil.
Simmer for 10-15 mins until the vegetables are cooked.
Check for seasoning and use salt and pepper if required.
Notes:
If you have little people in your household that are vegetable resistant you can puree this soup so they won't know what they are eating. I like to give mine a mug of this when they come home from school with some bread and butter
I like to add any fresh herbs I have on hand like oregano and basil to this soup. The longer you simmer it the better the flavour.
If you are really stuck for time, you can use one of those ready cut bag of soup vegetables from the supermarket.
If you are looking for a more substantial soup, you can throw some soup pasta like orso into the pot but you may have to add additional water as the pasta takes up a bit.

This recipe was created by Jennifer Cheung for Kidspot, New Zealand's best

recipe finder.
More first foods recipes: