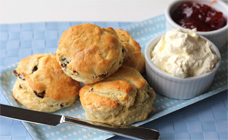 Date scones
These date scones are a classic recipe that you can whip up for afternoon tea. They are perfect for those occasions when you have guests dropping by. Find more on Kidspot, New Zealand's recipe finder.
Ingredients:
150ml milk
150ml cream
1 egg
3 cups self-raising flour
3 tbsp caster sugar
1 cup dried dates, chopped
1/4 cup milk (for glazing)
1 tsp sugar
Method:
Preheat the oven to 180°C. Line a baking tray with baking paper and set aside.
Whisk the egg, milk and cream together until combined.
In a bowl, combine the flour, sugar and dates together.
Pour the wet mixture into the dry mixture and stir to bring together the dough.
Turn out onto a lightly floured surface. Gently knead until the dough just comes together.
Pat into a 2cm thick round. Cut scones out and place on the tray.
Combine the 1/4 cup of milk with the teaspoon of sugar and brush over the tops of the scones.
Bake for 12-15 minutes until golden.
Notes
You have to have jam and cream with these scones.
Don't work that dough too much. It will take the lightness from your scone.
If you like your scones really soft and fluffy, you can push them up against each other on the tray.
Related scone recipes:
This recipe was created by Jennifer Cheung for Kidspot, New Zealand's best recipe finder.

More toddler recipes:
More toddler firsts:
More childhood firsts: