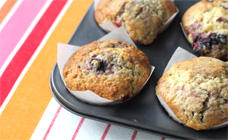 Mixed berry muffins
These mixed berry muffins have swirls of strawberries, blueberries, raspberries and blackberries all the way through them. Find more on Kidspot, New Zealand's recipe finder.
Ingredients:
3 cups self-raising flour, sifted

1 1/2 cups caster sugar
1 tsp vanilla extract
2 eggs
150g butter, melted and cooled
1 1/3 cups milk
1 tsp grated lemon rind
300g Frozen Four berry mix, defrosted and roughly chopped
Method:
Preheat oven to 200°C. Line a 12 cup muffin tray with patty pans.
In a bowl mix the flour and sugar.
In a separate bowl, lightly beat the eggs, milk, butter and lemon rind.
Stir in the flour and sugar. When the flour is just wet, fold in the berries.
Fill muffins liners and bake for 25-30 minutes.
Notes
I defrosted these berries on a tray while I was making the mix. They were still a bit frozen when they went into the oven.
This recipe makes 8 Texas sized muffins.
Try to mix the muffin ingredients until just wet - don't work the batter too much. It makes tough textured muffins if whipped.

Related muffin recipes:
This recipe was created by Jennifer Cheung for Kidspot, Ne Zealand's best recipe finder.
More toddler recipes:
More toddler firsts:
More childhood firsts: