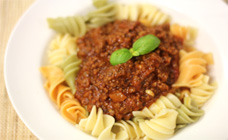 Pressure cooker bolognese sauce
Cooking bolonese sauce in the pressure cooker gives it that amazing depth of flavour that you can only get by simmering it on the stove-top for hours. Find more on Kidspot New Zealand's recipe finder.
Ingredients:
2 tbsp olive oil
1 kg beef mince
2 onions, peeled and finely diced
4 cloves garlic, crushed
1/2 cup tomato paste
1/2 cup red wine
2 tbsp Italian dried herbs
1 tsp salt
1/2 tsp ground black pepper
800g tin crushed tomatoes
1 tbsp balsamic vinegar
Method:
In the pressure cooker base, heat the olive oil and brown the mince.
Add the garlic and onions and saute for 5 mins.
Pour in the red wine and tomato paste and cook for 3 mins.
Add in the crushed tomatoes, herbs, salt, pepper and balsamic vinegar.
Bring to the boil and put the pressure cooker lid on.
Bring to full pressure and reduce heat to stabilise. Cook for 15 to 25 minutes.
Notes:
This created a really smooth sauce that tasted just like it had been simmering all day.
I think you could fit a double batch of this into a 6 litre pressure cooker.
If you find that the sauce is runny, you can simmer it with the lids off for 10 minutes after cooking.
More pasta recipes:
This recipe was created by Jennifer Cheung for Kidspot, New Zealand's best recipe finder.
More toddler recipes:
More toddler firsts:
More childhood firsts: