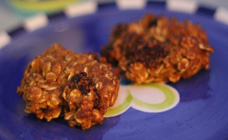 Pumpkin and oat cookies
These healthy oat and pumpkin cookies are really easy to bake and the kids will never know there is pumpkin in them. Find more on Kidspot, New Zealand's recipe finder.
Ingredients:
1 cup pumpkin, cooked and mashed
2 egg whites, beaten until frothy
1 cup brown sugar, lightly packed
1 1/2 cups plain flour
1 tsp bicarbonate soda
1 tsp cinnamon
1/2 tsp nutmeg
1/2 tsp ground cloves
3 cups rolled oats
1 cup raisins
Method:
Preheat oven to 180°C. Line a baking tray with baking paper and set aside.
In a bowl add the flour, bicarbonate soda, nutmeg, cloves, cinnamon, oats and raisins. Mix well to combine.
In a separate bowl, using a spoon, mix the egg whites and pumpkin.
Pour the pumpkin mix into the dry ingredients and stir to combine.
Drop tablespoonfuls onto the tray with 3cm between each.
Bake for 20-25 minutes.
Notes:
You would never know these contain pumpkin when you taste them. They just taste like an oat and raisin cookie.
If you want a flat disk shape cookie, you will need to flatten these with the bottom of a glass on the tray before baking.
This recipe was created by Jennifer Cheung for Kidspot, New Zealand's best recipe finder.
More toddler recipes:
More toddler firsts:
More childhood firsts: