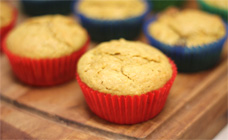 Pumpkin muffins
These pumpkin muffins are healthy but don't tell the kids. I usually just tell them that they are raisin muffins. Find more on Kidspot New Zealand.
Ingredients:
1 ¾ cups plain flour
½ cup brown sugar
1 cup raisins
2 tsp cinnamon
¼ tsp nutmeg
4 tsp baking powder
½ tsp salt
1 cup pumpkin, cooked and mashed
2 eggs lightly beaten
½ cup milk
125g butter, melted
Method:
Preheat oven to 180°C. Line two muffin tins with patty pans. This recipe makes 18 muffins.
In a bowl, combine the flour, baking powder, brown sugar, cinnamon, nutmeg, raisins and salt.
In a separate bowl, combine the eggs, pumpkin, milk and butter.
Pour the wet mix into the dry mix and using a spatula, gently fold together the mix until all ingredients are just moist.
Using a ¼ cup measure, fill each patty pan and bake for approximately 15-20 minutes.
Notes:
These muffins have pumpkin in them which I do not tell my children about. They just think they are raisin muffins.
Using a measuring ensures that your muffins turn out a uniform size.
This recipe was created by Jennifer Cheung for Kidspot, New Zealand's best recipe finder.
More toddler recipes:
More toddler firsts:
More childhood firsts: