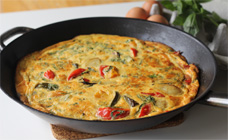 Roast vegetable frittata
This roast vegetable frittata is a perfect way to use up leftover roast vegetables. Make it for a light lunch with a salad. Find more on Kidspot New Zealand.
Ingredients:
2 cups roasted vegetables (pumpkin, zucchini, chats, capsicum)
6 eggs
1 cup cream
3/4 cup parmesan cheese
3 tbsp basil, freshly shredded
Freshly ground salt and pepper
Method:
In a bowl, whisk the eggs. Add in the cream, cheese and basil.
Stir in the roasted vegetables.
Oil a pan and pour the mixture in.
Heat the mixture on a medium to low heat for 10-12 minutes.
Then set the top under a hot grill for 5 minutes.
Cool for a few minutes and slice. Serve with a nice green salad.
Notes:
This is a great recipe to use leftover vegetables up.
If you are roasting them especially just cut them all around the same size and drizzle with olive. Bake at 180°C for an hour.
This is perfect picnic food and also great to have in your lunchbox.

Related quick dinner recipes:
This recipe was created by Jennifer Cheung for Kidspot, New Zealand's best recipe finder.
More toddler recipes:
More toddler firsts:
More childhood firsts: