A Healthy Halloween Starts with Oral Hygiene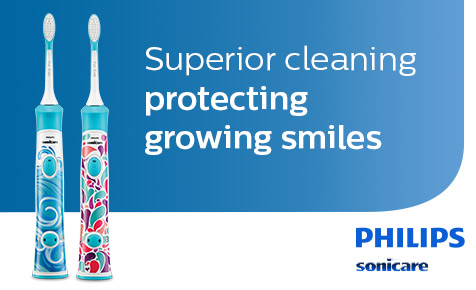 Halloween is just around the corner. Kids from all over New Zealand will be busy making trick-or-treating costumes and parents will worry about how many sugar-laden treats their kids will consume. Parents want to embrace the fun of Halloween but may feel guilty about all the lollies and chocolate their kids will indulge in.
Dr Richard Lowe of Fraser Smith Lowe Dentists in Pakuranga, Auckland said, "Many dental diseases are preventable. There are many preventative products now available including advanced toothbrushes for kids, like Philips Sonicare for Kids electric toothbrush."
His top tips for parents looking after their children's oral hygiene are:
Limit the frequency of sugary and acidic snacks in between mealtimes. Make water the main drink from a young age as it maintains hydration and saliva flow to help neutralise bacterial acids. Even natural sugars found in fruit and juices are able to feed decay-causing bacteria. As a dental-friendly alternative, try giving kids cheese as a snack.
Kids can find it difficult to brush well and you should help your child to brush at least until they are 8 years old. When they are younger you can brush their teeth by standing behind them or having them sitting on your lap. As they get older they will want to brush themselves – just make sure that you check that they are brushing properly.
Don't forget to help with flossing too. The back teeth are most important in children and should be flossed as soon as they touch the adjacent tooth.
Make tooth brushing fun and take the guilt out of Halloween with Philips Sonicare for Kids. The Philips Sonicare for Kids encourages independent brushing whilst being fun and engaging. The brush includes a KidTimer that uses fun music to progressively teach kids the recommended two minute brushing time.
The Philips Sonicare for Kids toothbrush is a parents' partner in oral health and helps put kids on the right oral health care path. So when it comes to Halloween festivities, parents can rest easy knowing that their child already has a good oral hygiene routine in place.
It is perfectly designed for younger and older children with an ergonomic handle designed for assisted or independent brushing. It has two kid-friendly settings – low mode for ages 3+ (40 per cent of Adult Sonicare Power) and high mode for 7+ (60 per cent of Adult Sonicare Power) and brush heads for ages 3+ & 7+. An anti-roll feature allows for easy application of toothpaste by child or parent and colourful interchangeable panels allow kids to customise their brush.
The Philips Sonicare range sets itself apart from other electronic toothbrushes with its dynamic side-to-side cleaning action, rather than a rotating action. With over 31,000 brush strokes per minute, Sonicare power toothbrushes are proven to remove more plaque than a manual toothbrush and improve gum health.[1]
---
The Philips Sonicare for Kids toothbrush is now available in selected Farmers, Noel Leeming, Harvey Norman and Heathcote Appliances stores for RRP $99.95 and for a limited time (1 October — 15 November 2016) you'll receive $30 cash back with purchase.
Find out more at www.philips.co.nz/sonicare
Last revised: Wednesday, 19 October 2016
This article contains general information only and is not intended to replace advice from a qualified health professional.