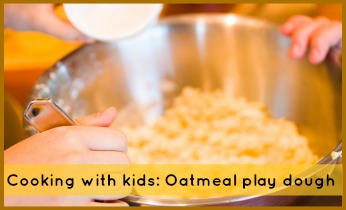 Cooking with kids: Oatmeal play dough
Who ever said you can't play with your food? Ok, well this may not be intended to be food, but it won't hurt if the littlies happen to have a taste! Give this play dough a go, it has plenty of texture to explore and can be stored to play with at a later date!
What you need:
1 part flour
1 part water
2 parts oatmeal
large bowl
Activity:
Step 1. Gather your ingredients.
Step 2. Combine all ingredients in a bowl and mixing well and kneading until it's smooth.
Step 3. Play and store.
It's that simple the kids will love it and love being a part of making it!
Find More Playdough Ideas