7 cool beach games to play this summer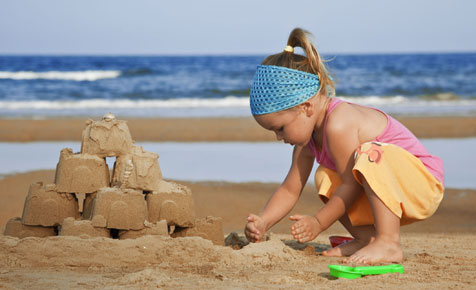 There's more to a day at the beach than splashing in the surf and building sandcastles. You can have plenty of active fun at the beach with your family by getting creative. Here are seven cool beach games the whole family will love:
1. Make a sand turtle
Sandcastles are so last season - why not make a sand turtle that'll turn everyone's heads? This is a great way to get the whole family - from toddlers to teens (well, maybe) involved. From mapping out the shapes, to the fetching of sand and water to deciding on just the right 'wetness' of sand required - there are a lot of skills involved in sand-crafting.
Make your sand turtle as simple or complex as you like. Littlies will love popping some shells around the turtle's 'home' while bigger kids will really get involved in crafting. Have fun!
What you need:
sand
bucket
water and spray bottle
shovel
Find out how to make a sand turtle
2. Wet clothes relay race
Beaches are great for running. On the firm, wet sand by the shore the going's easier - but, in the dry sand furthest from the sea's reach it can feel like you're running through caramel! Make your day at the beach active - by dividing up into teams and having a fun relay with a twist.
Slather yourselves in waterproof sunscreen before and after playing, and get ready for lots of laughter. This is a game that'll have you in fits of giggles. It's is loads of fun - but strangely difficult to master. This game is sure to become a firm, family favourite.
What you need:
a bucket of water for each team
T-shirt and pants for each team
Find out how to organise a wet clothes relay race
3. Beach mini golf
This is a double-bonus game as you'll have just as much fun setting it up as you will playing it. You can have loads of fun devising a mini-golf course on the beach - with mounds and sand-traps galore! This game is suitable for just about all ages, as soon as kids can walk and swing a golf club they can play. It's not really about skill - more blind luck and lots of laughs.
What you need:
buckets
spades
paper cups
decorations (flags, hoops, toys)
plastic golf club and ball
Find out how to set up a mini golf course
4. Beach ball race
This is a great game for a pool - whether it's a backyard pool, your local public pool or an ocean pool. All you need is two beach balls - and at least two players.
You'll need speed, cunning and a good dose of coordination to really master this race. That's why it's the perfect game to play over, and over again. The more you play, the better you become.
Find out how to organise a beach ball race
5. Beach bowling
This active game can be played anywhere - indoors, backyards, parks or at the beach.
What you need:
Some 'skittles' (empty plastic bottles, drink cans or small boxes will work)
a ball
This game can be played by all ages, just adjust the distance to the skittles for the littlies. This game is great for improving kids' hand-eye coordination and improves gross motor skills as well. Plus, it's just a lot of fun.
6. Stuck in the quicksand
This is a fun variation on the kids' classic game, Stuck in the Mud. It involves three of kids' favourite things - chasing, running and make-believe!
All you need for this game is an open space at the water's edge and at least four kids. The rules of Stuck in the Mud apply but there'll be heaps of extra fun with players splashing and crawling through the legs of the 'stuck' players. They'll need to be quick though - to get out of that quicksand before sinking!
Get the rules for Stuck in the Mud
7. Beach plaster plaque
Not all kids are into being active all the time. For some, they like their crafty fun. Here's a great activity for all kids (and parents!) to play that can start at the beach and finish at home at the end of the day. Make sure they only use shells and other things washed up on the shore - and remind them that rockpools are only for looking at as they're home to many wonderful creatures.
Making a beach plaster plaque is a creative way to bring home the memories of a family day at the sea shore.
What you need
a bucket or container
plaster of Paris
a mold
the items collected from the beach
Find out how to make a beach plaster plaque
While it's great to laze around on the beach, punctuated only by the odd swim to cool off, being prepared with some great beach games and activities will make the day fun for the whole family. Keep items you'll need for these games and activities in your car boot - so you're prepared for a spot of family fun whenever the sun comes out this summer!
Find More Activity Ideas: