7 splashy pool games to play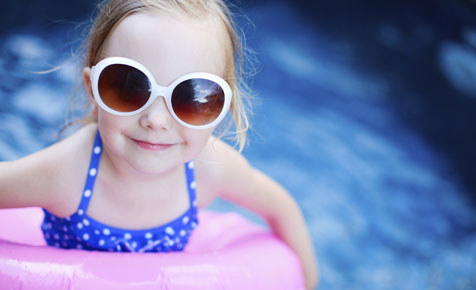 If the sound of "Marco!" and "Polo!" over, and over, and over again is going to do your head in this summer - you need to teach your kids some new pool games - fast! We've got some great ones here, including adaptations of some fun games that are traditionally played on land - but adapted in the most awesome way to water.
It's easy to use your imagination and adapt many on-land games as you can for the pool. How about Pool Noodle Limbo? Or a scavenger hunt using items on the bottom of the pool? Let your imagination run wild and you'll be guaranteed to have some very happy swimmers on your hands.
All you need to play is a pool (of course!), lots of waterproof sunscreen, an 'impartial' moderator to help umpire and kids with a keen sense of fun. Here goes ...
1. Battleships and submarines
What's it about?
You'll need two teams for this one - one team is the Battleships, the other the Subs. The aim is to outnumber the opposition - and have the majority of boats docked at base.
How to play
Each team has their base on a pool wall on opposite sides to each other - the shortest sides of the pool work best so both teams have the length of the pool to play in. Now, as you'd expect from this game, Battleships do all their work on top of the water, submarines underneath.
The aim is for the Battleships to come off the wall to the midway point, and taunt the Subs into catching them. The Submarines push off underwater and try to tag the Battleships before they get back to base. If a Submarine successfully touches a Battleship, the Battleship turns into a Submarine.
A Submarine can be turned into a Battleship if a Submarine comes up for air and is successfully splashed by a Battleship.
The ultimate aim is to have everyone playing on your team.
2 What's the time, Mr Shark?
What's it about?
This is a twist on the kids' favourite, What's the time, Mr Wolf?
How to play
One child is 'It' and has a turn as 'Mr Shark'. They are at one end of the pool, with the rest of the players at the other. The players call out "What's the time, Mr Shark?" Mr Shark calls out a number and the players take this number of steps or strokes across the pool towards Mr Shark.
Mr Shark is aiming to get the players as close as possible before saying "Dinnertime!", and turning around to chase and tag a player. When tagged, the player has a turn as Mr Shark. If a player touches Mr Shark before Mr Shark turns around and says "Dinnertime!" Mr Shark has another turn as Mr Shark.
3 Mermaid and dolphin races
What's it about?
These are swimming races with a twist - rather than using regular strokes - participants swim like a mermaid or a dolphin.
How to play
There are two options here - to swim like a mermaid or merman, using your arms for breaststroke, and feet together, 'kicking' like a mermaid; or swim like a dolphin, using no arms and only your body.
The trick is to keep your feet together, and use your whole body to wriggle and propel yourself to the other end. It takes practice - so allow a few practice runs before the actual race.
4 Beach ball relay
What's it about?
For these races you can use beach balls, rubber duckies or any floating object you like. The aim is to swim from end-to-end pushing an object in front of you using only your face. First team to successfully complete their laps wins!
How to play
Divide into two teams, with half the players at each end of the pool. Each player has to take it in turns swimming to the other end, pushing a beach ball or rubber duckie in front of their body, using only their nose (or their face - but no hands!). Players swim to the end of the pool, touch the wall, then the next player has to get the duckie or ball in front of their nose (using only their face and head) and push it to the other end.
This is MUCH harder than you'd think - and hilarious to watch!
5 Water Frisbee
What's it about?
Hmmmmm, I guess you could say that this game is like basketball, except it's played in a pool, using a Frisbee instead of a ball, and plastic laundry baskets instead of hoops. Oh, and there's no dribbling. So, really, it's nothing like basketball. - But it's a lot of fun.
How to play
For this game you'll need four or more players, a Frisbee and two plastic laundry baskets.
Split into two teams, have a laundry basket at each end for the goals. The aim of the game is to throw the frisbee and have it land in the laundry basket to score a goal. Toss a coin to see who has first shot, then start the game. Players can pass the Frisbee to other players on their team, and the opposition can try to intercept. If the opposition gain control of the Frisbee they have a chance to try for a goal.
With this game it's a good idea to have one person on land who can fetch the Frisbee if it goes 'offside'. When the Frisbee goes offside, the opposition get a free throw.
6 Through the legs relay race
What's it about?
Here's another fun relay race for older, more experienced swimmers. To get from one end of the pool to the other - you have to swim through your team's legs!
How to play
Divide players into two teams. Have players standing in the water, legs apart. The aim is for players to swim through their team's legs, then, when they're through, stand with their legs apart so the last player in line can swim through. Keep repeating until the last player can touch the other end of the pool.
The team members should stand as close as possible to each other, with no more than four players on a team. Adult supervision is required for this one!
7 Swimming statues
What's it about?
This is a game of statues with a difference - you play it in water, and it's possible for other players to unfreeze one another.
How to play
You'll need at least three players for this one, and to define the boundaries of the game (ideally you should be playing in shallow water, no more than chest height). One player is 'It' and their job is to race around trying to tag as many people as possible. When tagged, a player must freeze and be a statue. The only way to stop being a statue is for an unfrozen player to swim between the statue's legs.
At the end of a minute, call time, and one of the frozen statues becomes 'It'. Ensure that each player has a turn at being 'It'. The winner is the person who had the most frozen statues at the end of a minute when they were 'It'.
Find More Activity Ideas: