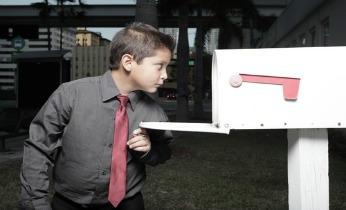 Decorate and post a letter
How long has it been since the kids have used the post? We all know about the postman and how he brings the mail (bills normally) but do they know THEY can send something? Have them decorate a letter and post it off to a loved one. You never know, they could get a return post.
What you need:
paper
coloured markers
scissors
glue
glitter
embellishments
envelope
stamps
Activity:
Set the kids up at the craft table and gather all the decorative bits and pieces that are needed to decorate a letter to a grandparent, aunty, uncle or another family member they miss.
Have them decorate the letter and include a poem, a story or another snippet of information they would like the recipient to know.
Pop it in the decorated envelope, add the stamp and head off for a walk to the local mail box.
Chat to the kids about the post and what happens to their letter after it goes into the red mail box.
Hopefully, the recipient will post a letter back and all your mail will no longer be bills!
Check out some of these poem ideas for kids to create and send:
How to write poetry: Limerick
How to write poetry: Tongue twister
How to write poetry: Haiku
How to write poetry: Acrostic poem
How to write poetry: Diamante poems
How to write poetry: Alphabet poetry
How to write poetry: Cinquain poetry
How to write poetry: Couplet poetry
How to write poetry: Triplet poetry
How to write poetry: Quatrain poetry
How to write poetry: Autobiographical
How to write poetry: Colour poem
How to write poetry: Haiki
How to write poetry: Monster Poem
Find More Activity Ideas: