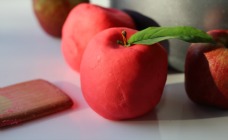 Apple scented play dough
This simple play dough recipe is made with apple-scented shampoo and smells like yummy apples. It only takes about 3 minutes to make up a batch.
What you need:
1 cup (150g) plain flour
1/2 cup (115g) salt
2 tsp cream of tartar
2 tbsp olive oil
3/4 cup (180ml) water
2 1/2 tbsp (50ml) apple fragranced shampoo
red or green food colouring
Activity:
Step 1. In a medium saucepan, whisk together the flour, salt and cream of tartar. Pour in the water, oil and shampoo
Step 2. Add a couple of drops of your chosen food colouring and whisk in.
Step 3. Place over a medium heat. Using a wooden spoon, stir constantly until the mixture forms a ball.
Step 4. Turn out onto a clean surface and leave to cool for a few minutes. Knead until you have a smooth ball. Store in a resealable bag or closed container in the fridge.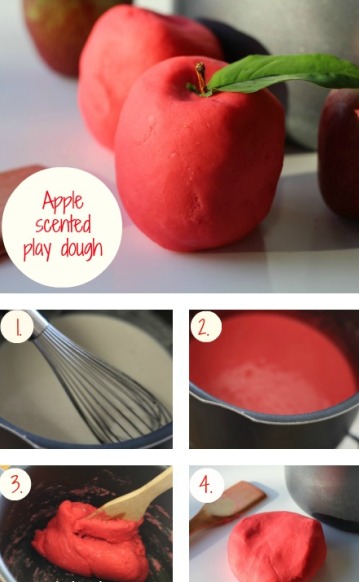 Apple scented shampoo is readily available in the supermarket.
Whisking the ingredients together before they go over the heat is essential in this recipe.
I keep play dough in the fridge to prolong shelf life.
This recipe was created by Jennifer Cheung for Kidspot, New Zealand.
Find More Craft Activities