Gorgeous homemade ways to celebrate Father's Day and say 'I love you'
By
Penny Flanagan
|
September 5, 2014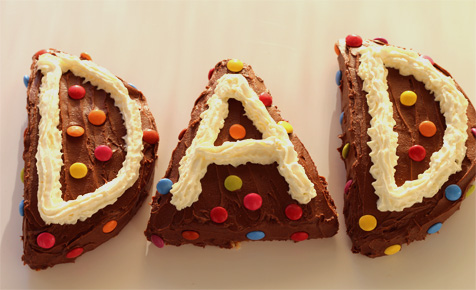 Father's Day can leave us all a bit stumped. Men are so hard to buy for and you can't just go the flower angle. But here are 20 ideas that will make Dad's day this Father's Day - from cute photo keepsakes to a fool-proof scone recipe that even the kids can make.
Sentimental keepsakes
You can create something Dad will want to keep forever, if you just put a bit of thought into it. Here are some sweet ideas to get you started.
1. Cute photo idea
A photo is more than just a photo when you make a bit of effort and set up something gimmicky like this sweet little foot photo idea above.
2. Following in Daddy's footsteps artwork keepsake
Record your child's footprint for posterity and give Dad an artwork to remember with this cute artwork idea that overlays your child's footprint onto Dad's. As the years go by, you won't believe how small your child's footprint once was.
3. Handprint scroll artwork keepsake
Handprints and footprints are the ultimate tear-jerkers. This one involves presenting Dad with a classy 'scroll' tied up with red ribbon on the special day. Watch the big guy well up when he gets this one.
4. Family handprints artwork
If you like to keep things simple, just get everyone together to make a big family handprint artwork for Dad.
Awesome homemade card ideas
A homemade card says so much more. Here are five of the best homemade cards from Kidspot and around the web.
5. iDad card
If you have a gadget-loving Dad on your hands, honour his love of gadgetry with this nifty iDad card.
6. I love you this much card
How much do you love him? How much?! This much!
7. DAD card with free printable template
Craft? Check! No artistic skill from Mum required? Check! Cute Father's Day card? Done!
8. Origami shirt and tie card
If you like to get a bit corporate with it and you have a child who likes a challenge, this shirt and tie origami is a a little fancier and says, "We care enough to do origami".
Useful trinkets and things Dad can use
Imagine making something that he might actually use. We've put our noggins together and come up with a few useful trinkets here.
9. Crocheted coasters
Get your kids to get their crochet on and create a pair of matching coasters for Father's Day. It's also a great introduction to the wonderful world of crochet.
10. Popsicle stick keys and coins box
He hasn't had a proper Father's Day until he's been presented with some very functional popsicle stick craft. He can keep his keys in it! (Then he might stop asking you where they are.)
11. 3D container with printable
This one comes with a free printable and presents a bit of a geometric challenge for your maths-loving junior geek.
12. Give Dad a coupon booklet
Create a coupon booklet for Dad, offering free hugs, breakfast in bed and a whole host of other useful stuff.
Bookmarks
Who doesn't love a bookmark? It's so much better than using a receipt or an airline boarding pass. And this will remind Dad of home, wherever he is throughout the day.
13. Make Dad a woven bookmark
There are so many ways to make a bookmark - this one comes with a free template to help you along.
Yummy food offerings
Nothing says "I love you" more than a batch of homemade goodies. And food is the gift that keeps on giving (until he eats it all, that is). Here are some easy recipes that the kids can make or at least, help you out with.
14. Fool-proof lemonade scones
The way to Dad's heart will be his stomach. These fizzy scones are SO easy even kids can make them. Whip up a batch for morning tea on Father's Day.
Find the Easy lemonade scones recipe here.
15. Make a chocolate cake
This is the best chocolate cake recipe ever. Show Dad you care and make him his very own for Father's Day. Don't scrimp on the icing, it's the best part.
16. Make Dad a big batch of homemade Rocky Road
No cooking required, just melt, mix and refrigerate. One word: yum.
17. Make some fudge … in a bag
Yes, you heard me, just put it all in a bag and mix it up, sister.
18. Make a big batch of pancakes
I have road-tested this recipe … extensively … and I can confirm it is both easy and delicious. Make Dad a big stack o'pannies for brunch and your work is done!
19. Make Dad's celebration cake
A little more work but wonderful fun for the kids when they decorate it especially for Dad. It look's great too and there will be leftovers for the kids school lunches!
20. Father's Day meal ideas
We have put together all Dad's favourites in a gorgeous slideshow so you can feel inspired when you prepare a special meal for your Dad this Father's Day!
This article was written by Penny Flanagan for Kidspot.com.au and has been adapted for Kidspot.co.nz