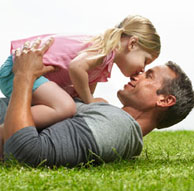 Freezing toes
Your kids will love the chance to cool off this summer and with Freezing Toes, they can have fun as they chill out too! You might want to take off your socks and enjoy the cool-down with them.
Number of players:
1+
What you need:
Small inflatable pool
Water
Ice cubes
Activity:
Fill the pool with water and add ice cubes.
Each player has to remove the ice cubes with their feet and toes.
The player who removes the most ice cubes is the winner.
Find More Outdoor Activity Ideas