Get a healthy tan - without the sun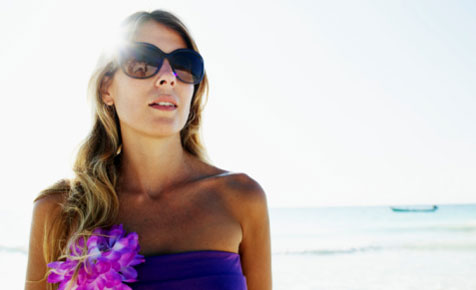 When the warmer weather begins, we all start thinking about our getting a tan to for a healthy glow. Let's face it - a golden glowing sheen will instantly boost your confidence and give you that extra bit of self-assurance to show off your bod! So follow these tips to get that sun-kissed holiday tan the safe way and at home - without exposing your skin to harmful UV rays. They're so zippy that they fit easily into any busy mums beauty calendar .
Up until the 1920s, having pale skin was synonymous with high status and class rather than a golden tan. Women of Ancient Greece used white chalk on their faces and during the reign of Queen Elizabeth, women applied blue paint on their forehead to give their skin a translucent look. But icons such as Coco Chanel changed all that, bringing glowing tanned skin into the equation.
It wasn't until the late 1970s, however, that tanning and the dangers of sun exposure and UV rays to our skin was made apparent and sunscreen became an essential part of our everyday lives.
So get that tanned summer glow while staying safe with the latest tanning tips, products and methods to get you glowing before your holiday , to maintain your tan or to pick yourself up on a grey day...
Gradual tanning daily moisturisers:
The latest in the market. These moisturisers are a great way to gradually build up your a glowing healthy tan. Using it daily will prepare your golden glow for the summer as well as moisturise your skin. You will notice the effects of a tanning moisturiser on your skin after just a few days - about 4 - but remember to use a sunscreen when actually going into the sun. It works because it has a small amount of the tanning ingredient found in self-tanning products. There are facial versions also available which are a great alternative to foundation. And the best bit? No orange palms in sight!
Enhancing pre-tan creams:
These are a great way to give your natural tan a little help to get going. They don't change your skin colour immediately, but accelerate your natural skin tanning process. They can be applied at home, so there's no need to book time out to go to a salon - which can be hard at times, when you are juggling the demands of life!
Top tan tip: Don't forget to put sunscreen on over your fake tan when you're out in the sun!
Spray tanning:
The great thing about a spray tan is that it's speedy, simple and pleasant, and if you are being sprayed on a hot day, the cool spray feels wonderful! This treatment will give your skin an even golden finish and no lines, as the particles are absorbed by the skin, leaving no trace at all - just a gorgeous glow. In addition to this, if your beauty therapist is properly trained, she can create shading effects with the tan, which can give you a 'slimming effect' - without dieting . Simply jump into the tanning booth, get sprayed and wait for 10 minutes. The tan should last between one and two weeks.

Top tan tip: Check out the 'tan in a can' top-up range for when your tan needs a boos - it's a spray which is designed for the face and for general topping up.
Self-tan creams:
The main benefit of using a tanning cream or lotion is that you can do this in your own time and in your own space. Be sure to exfoliate your skin before applying the fake tan, and apply it evenly, massaging it into the skin to avoid streaking and give you an even healthy glow.
Self-tanning wipes are a similar method and are ideal when travelling.
Top tan tip: Not all of these tanning products contain sunscreen, so be sure to check and protect your skin!
Find more Beauty articles:
This article was originally written for Kidspot.com.au in conjunction with Weight Watchers as part of their Positively Life Changing initiative.