How to wear the "it" item this summer: shorts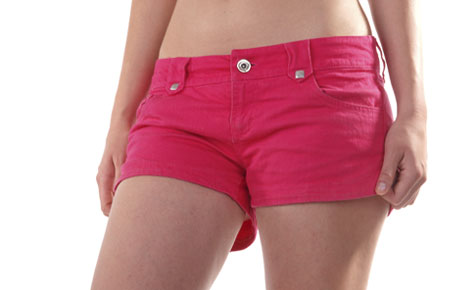 Hot summer weather calls for extra cool summer outfits. For a couple of seasons, the big fashion labels have been turning out flattering alternatives to summer dresses and skirts in the form of versatile shorts. Learn how to wear shorts fashionably this season and what to wear with shorts - and they'll end up being your favourite summer fashion item this year.
Get leggy with it
It goes without saying that shorts are all about your legs. So, keep your pins looking smooth and terrific by creating your own at-home routine of moisturising and perhaps dabbling in a good self-tanning product. And while we don't like to get prescriptive about matters as personal as hair removal, most legs look longer and leaner if they're hair-free. By the way, have your read the home waxing guide? It can be easier than finding the time to shave in the shower every couple of days.
It's a shoe-in
Anchor your look with the right footwear. If you are petite you can get away with wearing flats or ballet shoes with shorts. Everybody else should take advantage of the leg lengthening power of a high heel. Wedges look super smart with tailored shorts, and if you're bold enough to wear shorts out on the town, stilettos are the perfect evening accessory.
Make sure there's no muffin top
Muffin top is not a good look for any season! Check that your shorts fit well, especially around the waist, in the rise, and in the thighs. Tight shorts will pull and make you look uncomfortable, when the look you are going for is easy, carefree, summer cool.
Be confident
A little self-confidence will go a long way. Wear your shorts with accessories like a long-chain pendant, sandals with some sparkle, oversized sunglasses, or a block-colour bag to add some 'pop'.
Leave the hot pants to the teen celebs
Not all shorts are created equal and neither are all legs. A big no-no is ultra short and tight hot pants. They don't flatter anyone over 18 and they are not practical or comfy. If in doubt, keep your shorts basic and add your own style with a fun belt or a colourful top.
Most flattering
Shorts follow the same principle as skirts – it's all about the silhouette. The most universally flattering shorts sit low on the waist and have a structured, straight leg. But if you have wider hips and thighs, choose a wider, softer leg. Once you know what style suits you buy them in a few different colours.
The right top
Balance shorter shorts with a long sleeved shirt or tunic, or a light billowy blouse. If you're wearing longer length or Bermuda shorts keep the look cool by pairing them with an interesting, embellished tank. A good rule to remember is if your shorts are loose and baggy wear a tighter top. If your shorts are shorter and tighter, loosen up on top.
Just like a skirt only practical
Shorts will give you the same cool, breezy feeling as a skirt and they are just as versatile while being more practical for active people. Celebrities have been photographed wearing tailored shorts on the red carpet this year and while relaxing with family and friends. Just like a skirt, there are shorts for work and for play - it all depends on the fabric and the cut.
Find more Beauty articles:
This article was originally written by Lynne Hughes for Kidspot.com.au and has been edited for Kidspot.co.nz