5 fun jelly recipes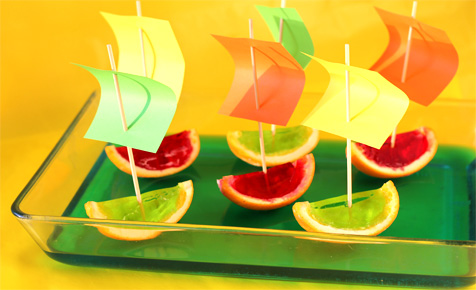 Is there anything easier to make than jelly? Open a packet of jelly crystals, boil some water, stir and place in the fridge - easy peasy. Loved by kids and adults alike, fill jelly moulds with fresh fruit to add a dash of nutrition to what is essentially just colour, sugar and gelatine. Hey, you can even try making jelly that little bit special by trying these Kidspot jelly recipes:
Fun jelly recipe #1: Pirate jelly boats
Know a little pirate who loves a bit of jelly? Whether for a pirate-themed birthday party, or as a cute spin on regular jelly, try a fleet of these jelly-filled orange quarters. Once you make your jelly boats, add some easy sails and lauch them on a sea of blue or green jelly. So cute - and easy!
Try the Jelly boats recipe!
Fun jelly recipe #2: Instant pudding jelly cups
Jelly + pudding + Fruit Loops = instant party-in-a-cup! These multi-coloured jelly cups are portable, sweet, and fabulously bright. Any little party goer will be thrilled seeing these jellies on the party table - and you've just halved your washing up time!
Try the Strawberry instant pudding jelly cups recipe!
Fun jelly recipe #3: Jelly pools recipe
Whether you're having a pool party, a special swimming event or just some beach-inspired fun, check out these cute jelly 'pools'. Recipes don't get much easier than this - all you need is some jelly, some Chico babies and a few fruit rings and you're sorted. Serve up these jelly cups and watch kids dive in.
Try the Jelly pools recipe!
Fun jelly recipe #4: Rainbow jelly cake recipe
Why offer boring old bowls of jelly when you can serve up wobbly rainbow fun? This recipe may be a bit fiddlier than others, but the final product is a gluten-free birthday cake that won't have the kids picking off the icing and leaving you with the remains!
Try the Jelly rainbow cake recipe!
Fun jelly recipe #5: Fruit jelly for babies
This simple fruit jelly (or fruit gel) is easy to make at home, and doesn't have nearly as much sugar as the packet version - thought it's almost as much fun! Make this recipe in a cute mould and serve with fresh fruit - your kids will gobble it up!
Try the Fruit jelly for babies recipe!
The fun of making jelly with the kids
Making jelly with the kids is like a science experiment, with something yummy to eat at the end. Jelly - also called Jell-O in America - changes shape with the change in temperature. Jelly stays set at room temperature, which is between 0 degrees and 20 degree celsius, but if you warm it to about 27 degrees it will disintegrate into a watery mixture. Cool it in the fridge for two hours or so and it thickens until it sets again.
Jelly can be made from animal collagen, or from seaweed (also called agar). Asian specialty stores often sell agar jellies for those who prefer their jelly desserts to be vegetarian!
More fun jelly recipes
Other cute kids food ideas
Find more Healthy Eating articles: