All about wholemeal pasta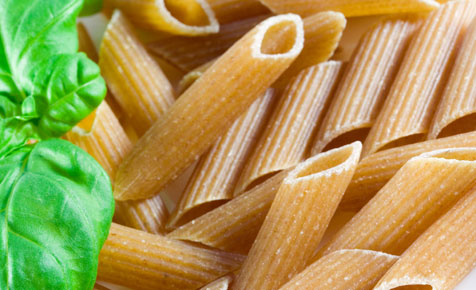 Dig into wholemeal pasta! It's delicious, satisfying and filling. Best of all it's packed with fibre. In recent years the quality of wholemeal pasta has improved considerably without sacrificing nutritional benefits. Wholemeal pasta is made from flour that uses the entire grain seed and contains more protein than refined-wheat pasta (white).
Today's high-quality wholemeal pastas, which run from tan to light brown in appearance, have the same toothsome texture as the best refined-wheat pastas and either mimic their flavour or veer off in entirely new and delicious directions, hitting nutty and earthy notes.
What's new at the supermarket?
When shopping for pasta, labelling can be confusing. Some companies describe their wholemeal pasta as made from 'whole durum wheat' while others list 'whole semolina'. Both describe coarsely ground whole durum wheat. Durum wheat, rich in protein and gluten, is the preferred wheat for pasta-making, whether refined white or wholemeal. (Wholemeal uses the entire wheat berry, while white pasta processes parts out). Some wholemeal pasta, like white pasta, is further fortified with riboflavin, niacin, folic acid and other nutrients.
Also available are hybrid wholemeal pastas, crafted from durum wheat flour blended with other wholegrains, such as oat, barley and spelt, and protein-rich legumes including lentils and chickpeas, for an additional nutritional boost. Note that pastas made from other wholegrains - faro, spelt, brown rice, quinoa and buckwheat - are available, each with their own texture and flavour and with a clear nutritional edge over refined-flour pasta. Many varieties are created from grains that do not contain gluten as well.
How does it taste?
Some wholemeal pasta is so similar to refined-wheat pasta in taste and texture that if you were to taste them blind, you might not be able to tell the difference. Other varieties boast varying degrees of earthiness, nuttiness and sweetness, and can have a slightly heartier, pleasantly coarse texture. With so many companies making wholemeal varieties, if you are unhappy with one brand, try another until you find one you like.
Sauces for wholemeal pasta
With its rustic taste and texture, wholemeal pasta stands up beautifully to bold, earthy sauces. Once you start experimenting you may prefer wholemeal over refined-wheat varieties when it comes to healthy full-bodied dishes
Find more Healthy Eating articles:
This article was originally written for Kidspot.com.au in conjunction with Weight Watchers as part of their Positively Life Changing initiative.