Have a takeaway at home and SAVE!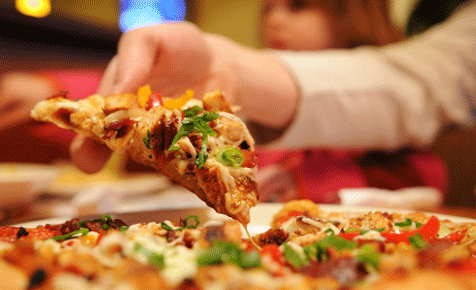 While takeaway meals can be tempting as a Friday night treat - or just because there's nothing in the fridge - a weekly $30 takeaway will add up to more than $1,200 over the course of a year. However, have the ingredients ready and you'll spend the same amount of time (and a fraction of the price) making a takeaway at home. "It really doesn't take any longer to prepare a meal at home than it does to order it over the phone and have it delivered, or get in the car, wait in the queue and bring it home",confirms Cath Armstrong, author of Saving Money is Easy .
Here are her five ideas for having a takeaway at home, plus Kidspot's easy takeaway recipes.
1) Pizza pitas
Pizza is the ultimate takeaway quick-fix but the greasy variety that you often get with junk mail coupons are not necessarily saving you money by the time you add garlic bread, fizzy drink and delivery cost to the mix. Do your wallet and your family's health a favour by making pizza at home the easy way. Use pita bread as a base if you don't want to make a yeast dough (even though that's really easy, too). Spread with tomato sauce or pasta sauce and add your toppings: grated cheese, pineapple and sliced tomato are easy to prepare and you can also use leftover meats with tomato sauce and cheese," suggests Cath.
Try this grilled pizza with sausage onion and capsicum, the sausage topping will give your kids extra protein, while capsicum provides a sweet source of vitamins.
More pizza recipes:
2) Fish and chips
Fresh fish should be a regular part of both your and your children's diets, with omega-3s boosting behaviour and mood. You can make this a takeaway treat by simply adding some hot chips to your kids' plates, says Cath. "Use frozen or fresh potatoes and cut potatoes into chips or wedges and serve with salad."
For a healthy twist on this classic takeaway favourite, try this fish and chips recipe - minus the saturated fat, as there's no deep frying.
More fish ideas:
3) Hamburgers on sourdough
"A good hamburger is hard to find and they are definitely better homemade," says Cath, who suggests you make your own burgers that are not only tastier, but more filling and healthy than a 'Happy Meal'.
With a sourdough bun, this recipe is child and adult-friendly. Just serve the meat patties on the table with bowlfuls of cheese, avocado, tomato and beetroot, so your children can build their own personalised burgers
More hamburger recipes:
4) Chicken fried rice
"Fried rice, stir-fries and Singapore noodles are all quick and easy to prepare," advises Cath.
This yummy fried rice contains four different vegetables - capsicum, peas, onion and spring onion - and if you chop these veggies finely, your children won't pick them out. Taking just ten minutes to cook, this fried rice is speedier than digging out a takeaway menu and calling up to place your order.
More fried rice ideas:
5) Chicken satay skewers
Marinate these chicken skewers for 30 minutes in satay sauce ahead of time (either homemade or from a jar). Then it's no trouble to cook up these takeaway treats in around six minutes when the hungry hordes arrive at the dinner table.
Plus:
Find more Healthy Eating articles: