Perfect pork cuts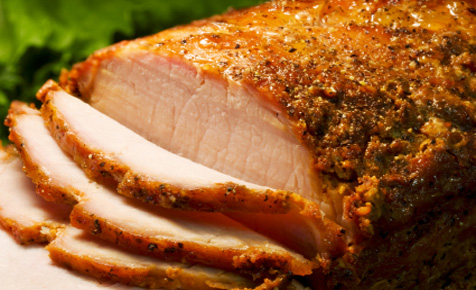 Lean pork is a great source of protein, niacin, B6, B12, selenium, riboflavin, zinc and omega-3. You can use it in place of chicken beef and lamb to add variety to your current recipes. Pork matches with a wide variety of delicious sauces and goes especially well with fruit like apples. Pork needs some care when cooking to ensure it's still juicy and tender for eating.
Storage tips
Make sure that you get your pork at the end of your shopping and get it home quickly and into the fridge to ensure freshness. Take a along an insulated storage bag to transport your meat in.
Place it on some paper towel on a plate and cover with cling film to store in the refrigerator.
Fresh pork has a sweet aroma and will be pink in colour and firm to the touch. Avoid pork that is greying or slimy.
You can freeze pork for up to 6 months.
Cooking tips
Bring meat to room temperature before cooking.
Cook pork over a medium heat to stop it drying out.
Try not to pierce or prod meat during cooking.
Rest your pork so it retains its juices.
Carve meat across the grain to ensure tenderness.
Marinating is great for tenderness and flavour when you are barbequing pork.
Leg
Leg roast – Traditional bone-in roast
Easy carve leg roast – Smaller leg roast without the bone
Leg steaks – Great for grilling, barbequing or pan frying
Mini Roast – Suitable for 2-3 people – Ideal for the midweek roast
Hock
Hock/shank - Ideal for slow cooking in either Asian or European styles
Loin
Cutlet – Premium loin cut suited to pan frying, grilling or barbequing
Loin steaks – Premium pork steak, similar to a loin chop without the bone
Rolled loin – Premium boneless roast, can be sized to suit
Butterfly Steak – Versatile double loin steak
Loin chop – Great barbequed grilled or pan fried
Loin rack – Outstanding dinner party favourite, with or without crackling
<a href="http://www.kidspot.co.nz/recipes-for+1466+7+Dinner+Pork-cutlets-with-roasted-apples.htm>Pork cutlets with roasted apples recipe</a></li> <li> <a data-cke-saved-href=" http:="" www.kidspot.co.nz="" recipes-for+2754+36+christmas+pork-roast-with-crispy-crackling.htm"="">Pork roast with crispy crackling recipe</a></li> </ul> <h4> Tenderloin</h4> <ul> <li> Pork fillet – Extremely versatile prime cut</li> <li> <a data-cke-saved-href="http://www.kidspot.co.nz/recipes-for+1463+7+Dinner+Marinated-pork.htm" href="http://www.kidspot.co.nz/recipes-for+1463+7+Dinner+Marinated-pork.htm">Marinated pork recipe</a></li> <li> <a data-cke-saved-href="http://www.kidspot.co.nz/recipes-for+1640+7+Dinner+Super-quick-creamy-pork-fillet.htm" href="http://www.kidspot.co.nz/recipes-for+1640+7+Dinner+Super-quick-creamy-pork-fillet.htm">Super quick creamy pork fillet recipe</a></li> <li> <a data-cke-saved-href="http://www.kidspot.co.nz/recipes-for+1547+72+Chinese-food+Five-spice-pork-with-couscous.htm" href="http://www.kidspot.co.nz/recipes-for+1547+72+Chinese-food+Five-spice-pork-with-couscous.htm">Five spice pork with couscous recipe</a></li> </ul> <h4> Belly</h4> <ul> <li> Belly – Succulent and tender, either slow roasted or braised</li> <li> U.S. Style spare ribs – Traditional U.S. style, delicious on the grill or BBQ</li> <li> Spare ribs – Great marinated, barbequed or slow roasted</li> <li> Rolled belly – Excellent value alternative roast. Succulent and rich in flavour</li> <li> <a data-cke-saved-href="http://www.kidspot.co.nz/recipes-for+2183+7+Dinner+BBQ-ribs.htm" href="http://www.kidspot.co.nz/recipes-for+2183+7+Dinner+BBQ-ribs.htm">BBQ ribs recipe</a></li> <li> <a data-cke-saved-href="http://wwhttp://www.kidspot.co.nz/recipes-for+2731+4+BBQ+Sticky-'n'-sweet-pork-ribs.htm" href="http://wwhttp://www.kidspot.co.nz/recipes-for+2731+4+BBQ+Sticky-'n'-sweet-pork-ribs.htm">Sticky n sweet pork ribs recipe</a></li> <li> <a data-cke-saved-href="http://www.kidspot.co.nz/recipes-for+2294+4+BBQ+Sticky-pineapple-pork-ribs.htm" href="http://www.kidspot.co.nz/recipes-for+2294+4+BBQ+Sticky-pineapple-pork-ribs.htm">Sticky pineapple pork ribs recipe</a></li> </ul> <h4> Forequarter (shoulder)</h4> <ul> <li> Forequarter roast – Traditional bone-in roast</li> <li> Easy carve shoulder – Great value boneless roast</li> <li> Scotch fillet roast – Economical roast with great flavour and tenderness</li> <li> Forequarter chop – Large chop, great for barbequing or grilling</li> <li> Scotch fillet steak – Economical steak with great flavour and tenderness</li> <li> <a data-cke-saved-href="http://www.kidspot.co.nz/recipes-for+2639+7+Dinner+French-rustic-pork-roast.htm" href="http://www.kidspot.co.nz/recipes-for+2639+7+Dinner+French-rustic-pork-roast.htm">French rustic pork roast recipe</a></li> <li> <a data-cke-saved-href="http://www.kidspot.co.nz/recipes-for+2195+4+BBQ+Pulled-pork-buns.htmm" href="http://www.kidspot.co.nz/recipes-for+2195+4+BBQ+Pulled-pork-buns.htmm">Pulled pork buns recipe</a></li> </ul> <h4> Miscellaneous cuts</h4> <ul> <li> Mince – A must for authentic Bolognese. Tasty alternative to regular mince</li> <li> Stir fry strips – The original stir fry meat. Great for Asian style dishes.</li> <li> Diced – Generally used for casserole or stir frying.</li> <li> <a data-cke-saved-href="http://www.kidspot.co.nz/recipes-for+2295+7+Dinner+Sweet-and-sour-pork.htm" href="http://www.kidspot.co.nz/recipes-for+2295+7+Dinner+Sweet-and-sour-pork.htm">Sweet and sour pork recipe</a></li> <li> <a data-cke-saved-href="http://www.kidspot.co.nz/recipes-for+2623+23+Budget+Wontons.htm" href="http://www.kidspot.co.nz/recipes-for+2623+23+Budget+Wontons.htm">Wontons recipe</a></li> <li> <a data-cke-saved-href="http://www.kidspot.co.nz/recipes-for+2973+7+Dinner+Pork-and-veal-bolognaise.htm" href="http://www.kidspot.co.nz/recipes-for+2973+7+Dinner+Pork-and-veal-bolognaise.htm">Pork and veal bolognaise recipe</a></li> </ul>