Top 10 diet-friendly road trip snacks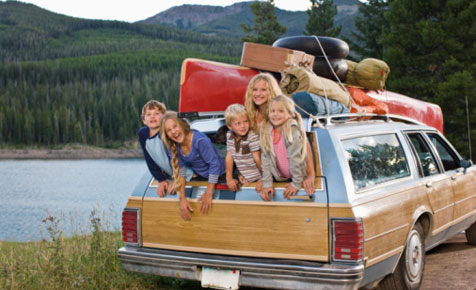 Hitting the road? Keep your snacks healthy and light these holidays.
Summer means family road trips to the beach and other holiday destinations. Don't let road-trip weight-loss anxiety get in the way of your summer fun. Instead, read our tips for the best road trip snacks suited for any kind of travel.
Whether you're traveling alone on a solo road trip, or with your significant other, or the kids, these diet-friendly snack ideas are designed for easy access, and most importantly, to steer you away from fast food stops along the way.
We suggest you bring along a small cooler to keep your healthy snacks fresher for longer in the car.
If you're driving alone
Driving alone in the car can be a cathartic experience, especially with the windows down, the wind blowing through your hair, and your favorite music blaring. To make your solo road trip even better, come prepared with these easily accessible (and heatlhy) snacks that don't require help from someone in the passenger seat and won't wreck your diet. Don't forget to pack lots of water!
Grape tomatoes: Actually a fruit, these miniature tomatoes, when ripe, make a delicious snack. This is a no-mess, grab-and-go heathly snack, and one you can reach your hand in the bag over and over without breaking your diet.
Summer berries are in abundance: Throw together blueberries, strawberries, raspberries, blackberries, or any mix of berries in a plastic container. This snack can get messy, so unless you've got a bunch of napkins tucked away in the car's glove compartment - leave this one for the rest stop.
If you're with that special someone
Sometimes it can be hard to eat heathy when you're travelling in the car with your partner - as they are looking forward to all the fatty junk foods they are going to indulge in on the road. But fear not for your diet! As hubby dives into a bag of fries mid road trip, you are armed with a yummy bag of popcorn sprinkled with Parmesan cheese or chili pepper flakes. And when the car inevitably ends up at the drive-thru window, you can either sink your teeth into a delicious sandwich you made earlier or make a diet-friendly choice from the menu. Here are some ideas to help your stock up on the right food for your roadtrip.
Popcorn sprinkled with low-fat Parmesan cheese or hot chili peppers is the perfect way to add flavour - without fat .
Open the lid of your yoghurt and toss in some crushed cereal or muesli for a little extra crunch. This will give you a solid dose of calcium, and although a little more challenging to eat in the car, you can make it work by placing the yogurt in your cup holder.
Cheese and crackers: Decorate some whole wheat crackers with your favorite low-fat cheese, and portion them out in plastic bags for easy access.
If you're with the family
Prepare these healthy road-trip snacks in bulk to pass around the car and share with the whole family. Choose diet-friendly, yet yummy enough to keep the kids happy so they don't start asking to visit the nearest fast food drive-thru window.
Core an apple and cut it into pieces. Throw it in a plastic container. Bring along a jar of peanut butter, and a plastic knife. If you're not driving, spread peanut butter onto the apple pieces and enjoy! This is one for the whole family.
Mini pita snackwiches. Hummus is full of protein and can help keep your hunger at bay until you reach your destination. Put some between mini pitas. These mini hummus sandwiches make the perfect portable snack that the kids will love too!
If you're with someone you don't know well
If you're grabbing a car ride with a friend of a friend, or giving someone you don't know very well a lift to your road trip destination - you might consider bringing along snacks that won't create crumbs (if it's the other person's car) and that you can easily share with them as a nice gesture (don't forget to pack a little extra). If you're worried the other person is going to stop at fast food restaurants along the way, you can pack yourself some portable diet-friendly main meals too. Also, packing foods with more neutral ingredients will minimize the possibility of strong smells filling up the car.
Happy snacking on your road trip, and bon voyage!
Find more Healthy Eating articles:
This article was originally written for Kidspot.com.au in conjunction with Weight Watchers as part of their Positively Life Changing initiative.