The ultimate working from home guide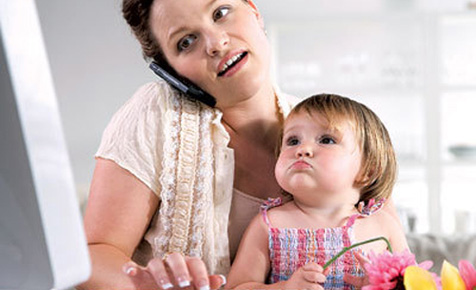 A job that fits in with your lifestyle, instead of vice versa, is the Holy Grail for many mums who want to earn a living while balancing their family commitments.
Here's our guide to everything you need to know about working from home.
Types of home-based work
There are three types of work-from-home scenarios:
Telecommuting - this is where you work from home either on a full time, part time or casual basis and communicate with your office via email, phone, instant messaging etc. If you're on maternity leave and thinking about returning to work, or you're a mum-to-be about to go on maternity leave, you are in a good position to talk to your manger about a working from home arrangement.
Self employed contractor - as a contractor you generate your own income from hiring out your services, profession or trade. For example a music tutor, or massage therapist, will charge by the hour for their services.
Home-based business - this is most commonly associated with 'work from home' advertisements found in your local rag and unfortunately, get-rich-quick scams. But there are legitimate work-from-home businesses out there, you just have to be savvy and research them thoroughly before signing up (see 'home business must-knows' below).
Is working from home really the Holy Grail?
For a lot of mums, working from home is the equilibrium of the work-life balance seesaw. Being able to drop the kids off at kindy or school, work for the few hours in between and spend quality time with them in the afternoon is more than perfect.
But before you quit your job, or sign up for a home-based business opportunity think about the kind of person you are. If you love the everyday social interaction you get at work, or enjoy working in a team, then solitude and working from home is probably not for you. Working from home also requires self-discipline, motivation and a level of organisation that not everyone has.
Also, don't be fooled into thinking working from home is a childcare solution. If you're expected to be on call during the day and work specific, uninterrupted, hours, you will require childcare.
Working from home pros
Independence and control in your work day with the ability to structure work hours around your own schedule and family commitments.
Possibility to enjoy more family time
Tax advantages - you may be entitled to claim office equipment and utility costs
Save time and $ on commuting costs
No office politics or distractions
Greater flexibility in your working hours
Work in your pjs!
Working from home cons:
Household distractions and family interruptions
Having to secure child care for when you're working
Can be isolating and lonely
Lack of IT support
You may find it difficult to separate work from home life
Must be self motivated and organised everyday
Work-from-home jobs
Medical transcriptionist, tele sales, book keeper, telemarketer, outsourced payroll officer, customer service officer, marketing coordinator and data entry officer are just a few of the work-from-home jobs advertised on various job websites recently.
Basically, any job that doesn't require a high degree of supervision, face-to-face client contact, or office-based systems and procedures can be done from home with a speedy internet connection and the right set up.
What you need to work from home
A computer
A fast internet connection
Email access
A dedicated phone line
An answering machine
A mobile phone with email access and a good data and call plan
Printer facilities with copying and scanning facilities
A comfortable chair and desk
A dedicated office space with storage for files
Where do I find these jobs?
Work-from-home listings on recruitment websites and in the employment section of the paper are a dime a dozen. However, finding legitimate employment opportunities in the sea of scams and dodgy listings can be tiresome. Check out Kidspot's Extra Income and Employment section plus other sites such as www.seek.co.nz and Trade Me's job section.
Business opportunity must-knows
Finding the right business opportunity can be a job in itself. You need to consider your life, your familys' needs and exactly how much time you have to dedicate to your business per week. Make sure you do your research, ask questions and get the facts before signing up to anything. Remember, there are no real get-rich-quick schemes so be wary of opportunities where you have a to pay money to make money, or that promise high returns with no guarantees.
Legal requirements
If you are already employed and feel you could better manage your work/life balance by working some of the time from home, chat to your employer about flexible work choices. Make sure you are clear in your contract about what your employer will provide (if you are still going to be an employee) such as phone and office equipment.
If you are a contractor you may need to register for GST - you can find out who needs to register for GST on the IRD website.
Find more My Spot Life articles:
This article was originally written by Lana Hallowes and was adapted for use on kidspot.co.nz