Resolve to simplify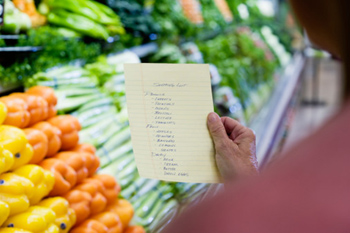 Start the year off right with a few easy changes that can save time and money - organizing your time is easier than you think!
Put your calendar to work
Dedicate a morning to booking a year's worth of appointments. Not just for the doctor and dentist, but for haircuts, your accountant, and even that yoga class you keep forgetting to sign up for. And so you won't miss another birthday, stock up on cards and paper and then store them in a place you'll be able to find them later when the year gets busy!
Make it a resolution to 'hold it only once'
Whether you're dealing with the mail, the laundry, or the pile of kids' stuff sitting at the bottom of the staircase, pick it up and deal with it straightaway. Don't get distracted, put it down, come back to it and start the process again. Pick it up once and complete the task. Easy!
Shop wisely
Select products that make daily or weekly tasks easier. No one likes a supermarket trip that takes longer than necessary so learn the gentle art of writing a shopping list - better yet, keep a shopping list going in the kitchen at all times and learn to jot down what you need as you use it up. Always clean out the fridge and pantry before heading to the supermarket to avoid buying items you don't need. Three packets of rice is two too many!
Use the space under beds for additional storage
Invest in a couple of clever storage containers with lids - make sure they fit in the space you have! - to make the most of under bed storage. Rather than tossing items into the space never to be seen again, be strategic about what you store there. Occassionally used items are the best - Christmas paper, cards and tree ornaments, holiday equipment such as snorkles and fins, along with tools or extra linen - as they won't have you diving under the bed every other day.
Have a 10-minute organisational makeover
It's very rare for anyone to have the time, energy or inclination to organise every aspect of their lives in one spurt so break it up into small bite-sized chunks of time. Every day, choose one organisational task: the kitchen drawer of death, the messy desk-top, the bathroom cabinet. Not only will you end up with a very organised life, but you'll learn that there's nothing that can't be done in 10 minutes!
Find more At Home articles:
This article was written by Ella Walsh for Kidspot.com.au and has been adapted for Kidspot.co.nz