Kitchen gadgets that help you lose weight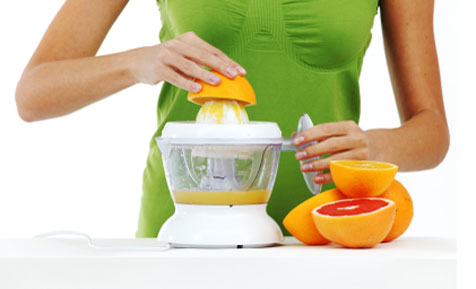 When you're trying to lose weight, your kitchen should be your ally, a springboard to success that keeps you on the right healthy track to reaching your diet and weight-loss goals. Your kitchen needn't be cluttered up with the latest high-tech cooking gadgetry, nor does it have to be a pared-down and joyless prison of deprivation.
Inspect-a-gadget
Let your kitchen be a creative sanctuary where you prepare delicious healthy, low-fat meals to get you to your weight loss goal.
You may have tucked away the deep fryer and the waffle maker for a while, but there are a whole host of kitchen gadgets that can help your diet and weight loss by offering a variety of new and original cooking and healthy recipe options that could fire your imagination, not to mention taste buds.
Juicer

Invest in a juicer and make up health-enhancing smoothies which are tasty for a light breakfast and mid-morning pick-me-ups. Fresh juices can provide all the essential vitamins you need and aid weight loss, and a good juicer recipe book will show you how to mix diet-friendly potions to help boost complexions, ward off colds, give your liver a tonic and even improve your love life!
Steamer
Have you got a steamer in your kitchen? They are perfect for cooking all the family's favourite vegetables and even some fish dishes which helps your lose weight - without losing any of the taste or nutrients. Ranges include cheap bamboo steamers, stainless steel stack versions through to multi-layered electric systems.
Wok
A wok is your best kitchen pal as it conjures up mouthwatering diet-friendly feasts in minutes and, using the freshest ingredients, you can have a delicious (healthy) Oriental banquet with no worry.
Popcorn maker
Children's popcorn makers may seem like a luxury but these handy little gadgets give you bowls of healthy air-popped popcorn to chomp on throughout the day - without the guilt factor! The perfect easy weight loss snack!
Grillers
Kitchen gadget enthusiasts can't have failed to notice the ubiquitous Lean Mean Fat Grilling Machines as promoted by ex-boxer George Foreman. These compact little grills and roasters accommodate different types of cuts of meat and fish, grilling them to perfection while the fat is reduced and removed by small gullies which drain it away. So why not treat your taste buds while losing weight?
Slow cooker
If you are at work all day, a slow cooker or oven timer could be your saviour. Throw in some freshly chopped carrots, onions, capsicums and tomatoes, some stock and some lightly browned meat in the morning and you'll have a hot, mouthwatering (yet diet-friendly) casserole waiting for you when you come home.
Other kitchen must-haves:
Here is a quick must-have inventory, which can turn your humble kitchen into a healthy gourmet galley strictly for the health and diet conscious, and body beautiful:
Large non-stick roasting pan ideal for oven roasted vegetables
Paper towel - use for mopping up excess fats from grilled, fried or roasted meats and fish
Grill racks - grill don't fry!
Water jug and filter - drink as much water as you can for your health and beauty's sake
Spice rack - to liven up any meal
Hand-held blender - great for soups and fat-free sauces
Book shelf on which to hold all your fabulous Weight Watchers cookery books!
Find more At Home articles:
This article was originally written for Kidspot.com.au in conjunction with Weight Watchers as part of their Positively Life Changing initiative.