Home makeover tricks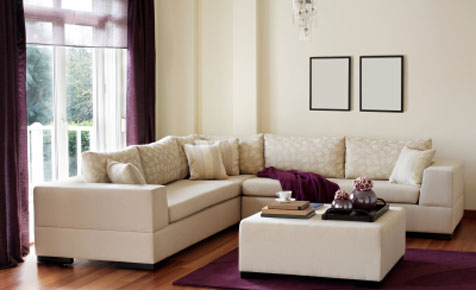 If your home needs a makeover, but you can't afford a major overhaul, there are some cost-effective changes that will give dramatic change. And it doesn't involve a paintbrush, step ladder and white spirits, either. "Painting is never the quick and cheap option. It takes time to have a good painted finish," says celebrity stylist Megan Morton. Here are her tips to transforming your home on the cheap.
Living room
When it comes to making the biggest impact in your living room for minimum spend, Megan advises starting with the lounge. "I would suggest changing the biggest element in the room - the couch. Buy a new one if budget permits, a new cover for a cheaper option, or cushions and throws for a real budget option," she says. "The couch takes up the most space in the room, so it's sensible to alter this for the most significant change.
Bedroom
In the master bedroom, rethinking the main light source is a great quick fix. "Consider swapping your standard light fitting for something totally over-indulgent, like a chandelier or an oversized pendant," says Megan. "If your room doesn't suit a middle hanging light, look at creating an instant focal point by opting for a side hung light. Either one large pendant hanging in the corner, or multiples of the same smaller light, are instant winners."
Bathroom
Most bathrooms can do with more lightness and brightness, which is why mirrors are a great cheap fix. "I always specify mirrors on as many wall spaces as I can in wet rooms. You can play with bevel edges for a little more flourish or go streamlined for a contemporary look. A mirror is inexpensive and can really improve the general foundations of most bathrooms," says Megan.
Kitchen
A tired kitchen's best asset can be a new, or revamped, bench top. "It's the one element that takes up most of the visual space, and when replaced or spruced up, can really transform the kitchen," says Megan. "It's also the surface you come into contact with the most, so it makes sense for it to be as nice as it can be.
Nursery
New bed linen can refresh a nursery for a second baby, for little cost. "Firstly it's so cute, secondly most kids give their linen a real beating, so by the time they have outgrown it style-wise, its more than likely time to replace it anyway," says Megan. "Given the price of other nursery elements, it's the most affordable thing to update". Megan loves brightly coloured baby blankets which can be tucked into a cot mattress, or thrown over a nursing chair, this can be a simple decorating touch to really lift a baby's room.
Child's bedroom
Add personality to a child's room by turning their projects into artworks. "Spend time framing their art and doing other smaller craft based projects to keep things bright and personalised," says Megan, adding that online auction houses also come up with great finds for individualising a child's room. Check online for any items you need. You might not find exactly what you need, but that's the surprise element - you might find something more amazing than what you were looking for. I am astounded at the things I find online. They always take the room in a different direction."
Find more At Home articles:
This article was written by Joanna Bounds for Kidspot.com.au and has been adapted for Kidspot.co.nz