Get your kitchen to help you cook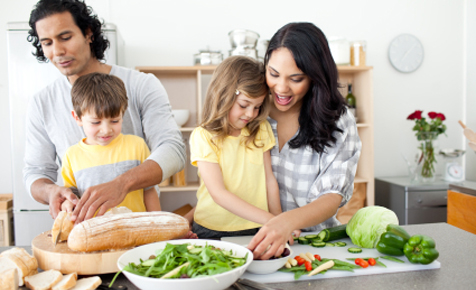 Could your kitchen help you cook better family meals?
Yes, and we'll show you how. Follow our advice on the best kitchen tools and appliances you can use, kitchen organisation tips and more to get you cooking (and enjoying it) it no time.
From the right set of knives to a non-stick fry pan, there are secret weight-loss tools and cooking equipment just waiting to be utilised in the kitchen...
What you see is often what you get. So store that deep fryer out of view and put those worn, begging-for-loads-of-oil fry pans out of their misery. With smarter placement of certain kitchenware, become your own master chef for every meal. This can also be motivation to get the whole house organized in a snap.
Getting started
Most low-fat cooks know that a great set of non-stick pans are key for cooking healthy cuisine. Look for non-stick pans in all shapes and sizes. Woks even come non-stick now!
Some complete cookware sets can cost you an arm and a leg, however you don't need to spend a fortune. Non-stick cookware comes in all price brackets, and if you make the effort and avoid metal utensils on the non-stick surface, your pans should last the distance. Our top hint is to do a cooking 'test drive' before you by a whole set of pans. Try buying a frying pan, and get used to cooking in it. By doing this, you may be saving a whole heap of money in the long run. If one brand doesn't suit you, then try another one.
Ready, set, cook
Other must-haves for cooking in the healthy kitchen include:
A set of sharp knives.
Freshly chopped herbs are heroes when it comes to flavouring food cooking with tons of butter or oil. Look for kitchen knives that sport a name with a long-lasting reputation, and be sure your set includes the basics:
paring knife
chef's knife
serrated knife
large bread knife
You also might want to invest in a sharpening steel to keep your kitchen knives slicing and dicing well past their golden years.
Non-stick cookware tools.
Your old metal spatula and spoons can scratch and ruin non-stick cooking surfaces, so make sure you buy a few basic nonstick tools such wooden spoons and a nylon spatula and tongs.
An indoor grill.
These can be a convenient way to grill or barbeque poultry, meat, vegetables and fish with lots of flavour and little fat. Just brush on your favourite marinade and a healthy meal is just minutes away.
A steamer.
Steaming is perhaps the most healthy cooking technique. You can buy a steamer insert for your saucepan or purchase one made for the microwave. Also don't forget about the range of electric steamers on the market these days with their multi-layering function. This means that you can steam your entire dinner so it's cooked to perfection. If your budget doesn't stretch this far however, then a simple Chinese bamboo steamer is the perfect solution. They've been used for centuries and are easy to store. They are usually placed over a wok of simmering water, however they can also be placed over a frying pan or saucepan too.
A salad spinner.
There's nothing better than a crisp, crunchy and healthy salad and nothing worse than one that's limp and wet. With a pull of string, your salad leaves will dry in a flash - much more quickly than blotting them with paper towels.
A basting brush.
Marinades and liquids can give food amazing pizzazz without adding extra kilojoules. But pouring them on from a pot or drizzling them off a spoon often doesn't yield as much flavour as when they're brushed on. Basting brushes are available in many sizes and shapes, but keep one shopping tip in mind: For easy clean-up, make sure your brush is dishwasher safe.

A top-notch peeler.
There's nothing more tedious than peeling vegetables with a dull, always nicks-you-in-the-knuckles peeler. Get yourself a modern one that'll let you peel potatoes with ease and in half the time.
Storage containers.
If you're taking the time to cook a wonderful vegetable soup or stir-fry, double the recipe for frozen, ready-made meals. Organise the leftovers in containers that you can simply defrost and reheat. And don't forget to date and label your containers for easy identification.

A well-stocked spice and herb rack.
Make sure your spice stash is well-stocked and stored in a cool, dry place in the kitchen to maintain maximum freshness. And think beyond the ordinary: Give Chinese five spice, sumac or Moroccan spice mix a try.
Marinades and toppings.
A piece of plain grilled fish can put most taste buds to sleep. But fish cooked with teriyaki sauce, grated ginger and shallots will add life to your meal without ruining your diet.
Strategic kitchen storage
Once you've stocked up, think about a hands-on approach to organizing kitchen cookware that'll help you prepare nutritious meals with ease:
Store pots, pans and lids in a spacious cabinet near the stove or in a drawer under the oven or stove.
Place a container holding non-stick utensils within arm's length from the stove, or in a draw nearby.
Keep your steamer and salad spinner conveniently close to the sink.
Make sure herbs and spices aren't hidden behind in the pantry. In sight means in mind.
Put knives in an easy-to-reach place - perhaps leaving them on the counter in a butcher's block.
Stack your kitchen storage containers in a cabinet or on a shelf that doesn't require a stepladder to reach them.
Find more At Home articles:
This content was written by Weight Watchers as part of Kidspot.com.au's Live Your Best Life initiative.