10 healthy summer salsas and light dressings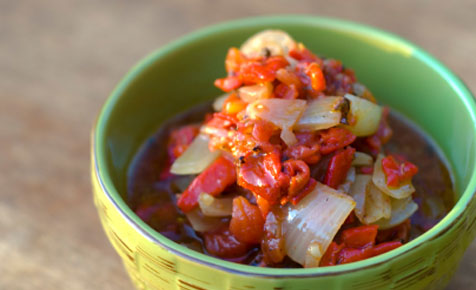 It's easy to add flavour, colour or texture to your favourite healthy salads. Whether you like fruity, creamy, spicy or exotic, these light salsas and salad dressings are sure to please your tastebuds - without messing with your diet or weight loss plan.
Jazz up your summer salads, barbecues and picnics with these easy to make, healthy salsa options:
Carrot, Coriander and Poppy Seed Salsa Recipe
Grate 2 medium carrots. Add 2 tbs white wine vinegar and 2 tbs lemon juice. Finely chop 1/4 cucumber and add to mixture with 2 tbs roughly chopped coriander. Heat a saucepan and add 2 tsp poppy seeds. When they start to pop, tip into mixture. Season to taste with salt and pepper and stir well. Excellent with grilled lamb steaks or cold roast chicken.
Tomato and Lemon Dressing Recipe
Perfect for mixed bean salads or for stirring through roasted vegetables. Simply mix together 3 tbs tomato puree, 3 tbs lemon juice, 3 tbs cider vinegar, 2 finely chopped spring onions and 2 tbs finely chopped parsley. Season to taste with salt and pepper.
Serves 4
Indian Salsa Recipe
Try this with grilled or barbecued fish, chicken or steaks it has a wonderful chilli kick. Finely chop 3 ripe tomatoes, 1 red onion, 1/2 cucumber and a small bunch of fresh coriander (including the stalks). Add 1-2 deseeded and finely chopped green chillies. Season to taste with salt and pepper and mix well.
Serves 4
Tropical Fruit Salsa Recipe
Delicious with fish especially char-grilled tuna or swordfish. Finely chop 2 generous slices of fresh pineapple (or use a small can in natural juice, drained). Add 1 peeled and chopped kiwi fruit, 1 peeled and stoned mango or papaya and 2 tbs chopped fresh mint. For a spicy kick, add 1 deseeded and finely chopped red chilli.
Serves 4
Roasted Garlic and Parsley Salad Dressing Recipe
Excellent with beef, pork or lamb steaks or meaty-textured fish. Wrap a whole bulb of garlic in foil and roast in the oven at 200ºC / fan oven 180ºC / for 15 minutes. Squeeze the pulp from each clove and mix with 2 tbs chopped fresh parsley and 200g low-fat natural yoghurt. Season to taste with salt and pepper.
Serves 4
Creamy Fresh Herb Salad Dressing Recipe
Mix together 2 tbs chopped fresh dill, 2 tbs chopped fresh parsley and 2 tbs chopped fresh chives with a 200g tub of low-fat ricotta cheese and 150g low-fat natural yoghurt. Add a little water if you want a thinner consistency, then use to dress salad leaves.
Serves 4
Wholegrain Mustard and Lemon Salad Dressing Recipe
Mix 1 tbs wholegrain mustard with finely grated rind of 1 lemon, 50g low-fat ricotta cheese, 4 tbs low-fat natural yoghurt and 4 tbs water. Add freshly ground black pepper, shake and drizzle.
Serves 4
Mango, Lime and Chilli Salad Dressing Recipe
Brilliant drizzled over Asian-style salads with shredded pak choi or Chinese leaves, bean sprouts, spring onions and lightly cooked green beans. Simply peel, stone and chop a medium mango, then blitz in a blender with a deseeded red chilli, the juice of 1 lime and about 4 tbs cold water. Season to taste with salt and pepper.
Serves 4
Raspberry Salad Dressing Recipe
Puree 100g fresh or frozen raspberries with a hand blender, then strain through a sieve to remove pips. Add 1 tsp powdered sweetener, 2 tbs white wine vinegar and 2 tbs lemon juice.
Serves 4
Rosemary, Thyme and Orange Salad Dressing Recipe
Strip leaves from 2 sprigs of rosemary and 2 sprigs of thyme (lemon thyme if possible). Add finely grated rind and juice of 1 medium orange and mix in 1 tsp of Dijon mustard. Season. (Use lemon rind and juice instead of orange, if you prefer). Perfect as a dressing and excellent for basting grilled meats and fish.
This article was originally written for Kidspot.com.au in conjunction with Weight Watchers as part of their Positively Life Changing initiative.