10 easy healthy changes you can make for your family TODAY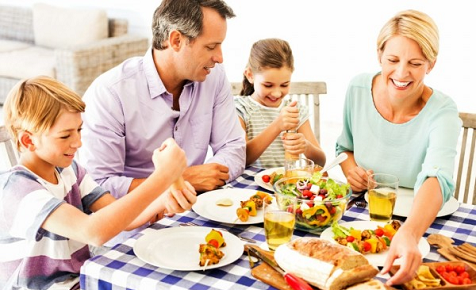 'New year, new you!' You've heard it all before, but the time is nigh to get you and your family healthy, as you embark on a brand new year. The good news is that you don't need to fork out silly amounts of money or spend hours of your precious time to make healthy lifestyle improvements – we've found 10 really SIMPLE, CHEAP and QUICK things you can do today, to make sure your family is healthy (and happy!) tomorrow, and beyond.
1. Bring back family meal time
Our fast-paced lives mean that sitting down to eat together as a family every evening, has become a thing of the past. TV dinners have replaced eating at the table, and the lure of mobile phones and other electronic devices seems to be getting in the way of spending meaningful time with one another. So, turn off the television, say 'No!' to phones and tablets at the table. Talk, listen, eat and relax in each others' company. It won't cost you a penny, and it's a great way to reconnect with your loved ones!
2. Do simple food swaps
A couple of minor changes to the way you eat can make a major difference. It's not about going on a 'diet' as much as it is about exchanging unhealthy foods for a healthier alternative. It's as simple as swapping butter for avocado on sandwiches, using brown rice instead of white, choosing Greek yoghurt instead of sour cream or mayo. And exchanging sugary soft drinks for sparkling water with fresh lime or lemon. It's seriously easy and the results will most definitely surprise you. Go on, there's nothing to lose.
3. Declutter your home
This research is in! A study out of the USA shows a link between depression and the amount of excess stuff in your home. So there you have it, there's no greater reason to have a good spring clean and clear away things you don't use, than this. Get organised on the homefront and you'll feel a whole lot more organised in your head. Your thoughts will be clearer and you'll feel calmer. Amen to that!
4. Bound out of bed for a 5-minute physical workout
We're not suggesting an hour-long sweat fest (who's got time for that?!), we're not even talking 30 minutes of daily exercise, or even 20 for that matter. All we're saying is take five minutes in the morning to warm up your body, stretch your sleepy limbs and get your heart racing a little faster. It could make all the difference to your day. The trick is to commit to this regime the minute your feet hit the floor. Sit-ups, squats, push-ups and a few feel-good stretches. Go there, you'll never look back.
5. Add more fruit and veggies to your daily diet
Forget processed snacks. There's nothing good about them for your health or your back pocket. You can still treat the kids to a yummy snack without it involving unhealthy stuff. The key to a good snack is to make it fun. Boring carrot sticks and orange wedges just don't cut it. Get a little creative, and turn grapes into caterpillars or apples into cars – then watch your kids' faces light up as they gobble the plate clean.
6. Count your blessings
It's easy to focus on the negative, and the things that aren't going right in your life. The problem is negativity can spiral out of control and leave you feeling very bleak. Invest a few minutes in putting together a gratitude jar. It will be time well spent, and is one of the best ways to counteract those daily negative niggles. Taking a moment or two each day to appreciate what you have seems to put things into perspective and is a lovely-tasting medicine for the blues.
7. Make a family meal plan
It might sound like a waste of time, especially when you don't have much spare time in the first place, but trust us, a good meal plan can be a lifesaver on so many levels. Firstly, it allows you to plan out a weeks' worth of healthy and nutritious meals for your family – ones you know that every member will enjoy. Secondly, it prevents you from stacking up the shopping trolley with things you don't really need. So, you're taking care of your family's health and the family budget at the same time – it's a win-win situation.
8. Drink more water
The health benefits of water are endless, we all know this. It's one of the best things you can do for your body on a daily basis that takes zero effort. And costs nothing. Plus, its one of the best health habits you could possibly teach your kids. Why not invest in some good quality, brightly coloured water bottles – this can go a long way to encourage those resist water drinkers in your family.
9. Say NO to pan-fried and YES to oven-baked
One of the most effective ways to lower your intake of fat is to stop frying food, and switch to baking it instead. Looking after your heart is an important lesson to learn, and one that can even prolong your life. There are heaps of tasty, nutritious recipes around that don't require you to cook using vats of oil. Try Oven-fried chicken, Oven-baked garlic prawns or a delish serving of Quick fishcakes with oven-baked chips. There's a healthy recipe out there to suit all tastes.
10. Be a positive role model
Many experts claim that the key to healthier life, is a happier life. We couldn't agree more. So … make this year the year that you surround yourself with positive people, teach your kids how to make choices that will make them happy, and do whatever you need to do to look after your mental health. Most importantly, show your family that love and understanding count for a lot, in this unpredictable world of ours.
This article was written by Jo Harris for Kidspot.com.au and has been adapted for Kidspot.co.nz