It doesn't have to look like exercise to be good for you
Written by Kym Moore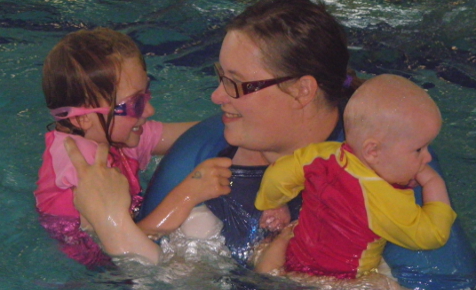 My three year old requires little motivation to engage in physical activity. She is at an age where movement comes naturally as part of exploring her world. She will climb up a stair purely for the joy of jumping down again. She will spin around and around to fill the space. She gets excited about leaving the house to explore the supermarket. I know she's very active because she seeks it out wherever she can find it.
My eight year old, on the other hand is a different matter. She isn't exactly a sloth but on the weekends she goes to her bedroom and I may not see her all day. I invite her to join us on our errands but she would rather sit in her room building something, drawing or using the computer or a tablet.
While I understand she needs time to decompress from the challenges of school it does make me yearn for the times when she thought going for a walk to get bread and milk was a worthwhile adventure. I also worry she isn't getting enough fresh air and activity during her weekend to encourage good sleep.
Obesity and particularly childhood obesity is getting more focus and ways to reduce the risks that inactivity brings are getting some real attention. One such way this is happening is at www.eatmovelive.govt.nz I had a look through some of the activities on the site and I was really surprised at how easy some of them would be to add to our day.
So this weekend, for the first time in months I took the girls to the local pools. We had so much fun. They were walking around in the water, swimming and diving, and making up silly games. I chased them about pretending to be a hungry shark. Afterwards we were all so tired, but it was a happy tired. I slept so well that night too, better than I had for a while. I noticed that they slept well too.
I played more games with the girls at home. It was as if I suddenly remembered how to have silly fun. We pretended we were the Three Bears, and then we pretended we were the Three Billy Goats Gruff. We made up bubble solution and got outside. We put on Pharrell's "Happy" and danced about in the lounge.
What I learnt from this experience is that being active doesn't mean sweating it out, doing something you don't feel passionate about. It's the difference between putting on an exercise video and asking the girls to join me, and putting on a Kinect game and visiting Elmo's World. It doesn't have to look like exercise to be good for you.
When I plan activity around our family time, then we are all more likely to be successful at being active. We are having fun together, and it's no longer about finding the time to fit in exercise. I'm being a more positive role model. My kids are getting active and what is good for them ends up being good for me too. We all win.
This blog was written by Kym Moore.
NB Comments are moderated by Kidspot and must not contravene our Terms of Service.