Getting your family to adopt a healthier lifestyle
Follow these 10 simple steps to get your whole family involved and lead a healthier life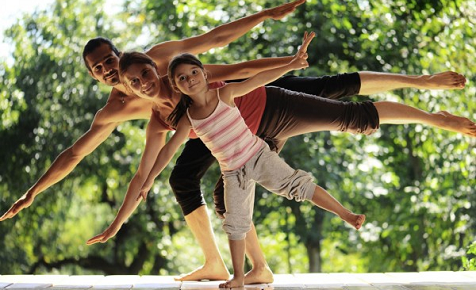 Fad diets and lifestyle programs can be difficult to stick to, particularly when you're trying to manage a busy family who, to be honest, aren't always that keen to change their ways.
That's why the key to success is getting the whole family on board. Believe it or not, that can be done with simple steps!
Here are 10 easy changes for a healthier family:
1. The family that plays together stays together
Is there a fun activity that the whole family will enjoy? That might be swimming, playing a ball game at the park, going for a bike ride, running or even rock climbing! If you can find one, make sure you play it regularly.
2. Be the early bird
If you get some fitness in before the day gets too far ahead you'll be less likely to find excuses or to be interrupted! You can alternate mornings with your partner so someone is always available to look after the kids and you'll be setting a great example of a positive attitude towards exercise.
3. Make healthy substitutions
Take those old family favourites, you know the ones I mean … and see if you can make a healthier version by using low-fat meat cuts, reducing the oil and butter, or increasing the amount of vegetables – there are heaps of superb ideas out there!
4. Take little steps
If you aim too high and struggle to meet your goals then you'll lose motivation and end up feeling frustrated. Set achievable weekly goals, like having one meat-free meal, and you can increase on them as you progress. Make your daily goals small, like drinking an extra glass or two of water, or substituting white bread with wholegrain.
5. Don't overthink it
Commit, and do. Don't make it a chore or talk yourself out of it – there are no bad consequences to healthier living, just you and the magic you create!
6. Talk to each other
Make sure you are constantly supporting each other and congratulating yourselves on the difference you're making. Emphasise that this is the way you're family lives now and it won't take too long before everyone adopts all the changes as second nature.
7. Make healthy snacks together
Get everyone to put forward their favourite ideas and make a family recipe book so you never run out of ideas. Make snacks in bulk but package them in portion sizes so you are not tempted to over-indulge. Include snacks as part of your family's overall daily nutrition – not an add-on that doesn't support your quest for good health.
8. Make a pact: drink water during the week and juice and fizzy drinks are a weekend-only treat
Treat yourselves on the weekend for doing such a great job during the week, if this is something that you feel is a rewarding goal. Keep water cool in the fridge in 500ml bottles that are labelled with each family member's name. This way it's an easy choice to grab and everyone can keep track of how much they are drinking.
9. Focus on what you CAN have
Rather than talking about what you're cutting out, focus on what you WILL be eating. If you want to stop having dessert every night, substitute it for your family's favourite fruit and say 'we will eat _____ 2-3 nights a week', instead of saying 'I won't get to eat dessert every night any more'.
10. Be aware of the family's takeaway habits
This doesn't just mean the odd drive-through (though that should be included), but also think about work lunches, school tuckshop and quick-fix dinners.
Lastly, allow yourself time to change. Quite often you find yourself trying to modify habits that your family has had for years, so be patient. If you consistently make small changes towards your long-term goal, you will eventually get there. Remember to give your family time to get used to one change before introducing another. Good luck!